Pakistan bags silver in Asian Men's Netball Championship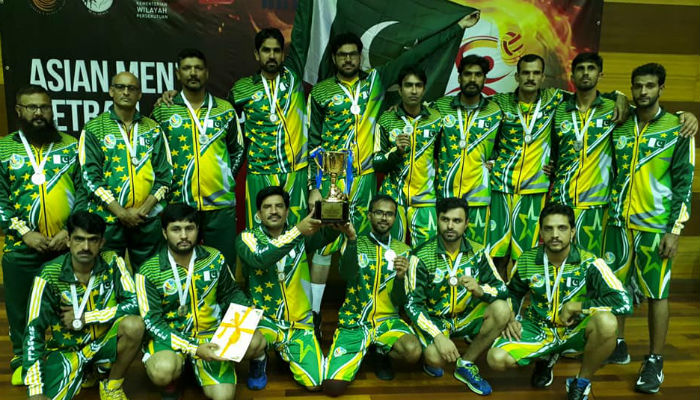 KUALA LUMPUR: Pakistan's team won silver at the Second Asian Men's Netball Championship on Sunday.
Pakistan secured the second position after a nail-biting competition with India. Pakistan scored 50 points while India claimed the title with 51 points.
Pakistan qualified for the final after defeating Singapore 75-63 during the semi-final on Saturday. On the other hand, India qualified after defeating host team Malaysia 47-44.
Interestingly, Pakistan defeated traditional rivals India 70-41 in the Round-Robin Matches of the tournament, which kicked off on Wednesday.
The netball squad of Pakistan comprises Mohammad Akhtar (captain), Samad Masood (vice-captain), Mehboob Shah, Ali Raza Fareed, Muhammad Khursheed, Abid Ali Ansari, Haris Kamal, Masoon Abbasa, Yawar Khan, Zahid Iqbal, Muhammad Rizwan and Naseeb Raza.
Mudassar Razak is the team's manager with Anwar Ahmed Ansari as the coach. Muhammad Riaz is assistant manager and Yassir assistant coach.
Pakistan had won silver in the First Asian Men's Netball Championship 2016.
The host team Malaysia defeated Pakistan 35-34 in a close competition, which was held at Dewan Serbaguna Complex Quarters, Kuala Lumpur, last year