Pan-democrats warned not to block funding for Hong Kong finance body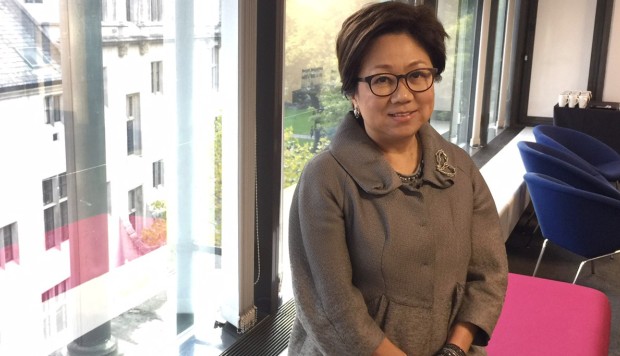 A top adviser to the Hong Kong government has warned that opposition lawmakers threatened the prospects of the city's financial services industry if they refused to approve funding for the Financial Services Development Council (FSDC).
Laura Cha Shih May-lung, chairwoman of the FSDC, said it needed resources to organise overseas missions to promote Hong Kong's financial services sector, as well as local programmes to reach out to university students interested in a financial career.
Cha is a member of the Executive Council, which advises the city's leader on policies.
Before Carrie Lam Cheng Yuet-ngor was elected chief executive in March, she said she did not understand why the FSDC was not given "executive power or resources" to do its work.
The council was created by Lam's predecessor, Leung Chun-ying, in 2013, with staff seconded from the government, the Trade Development Council and regulators.
Speaking on the sidelines of a trade symposium in London, Cha said the situation had yet to improve since Lam took office in July.
"The new term of government promised to give us more resources, and officials will go to the Legislative Council again to seek funding approval," Cha said. "We need dedicated staff to do our own studies and promotion."
In January, the Financial Services and the Treasury Bureau shelved a proposal to appoint an executive director position for the FSDC after opposition from pan-democratic lawmakers.
Cha said she was disappointed by the rejection.
"In Legco, lawmakers can say whatever they want. They said the council was created by C.Y. Leung and they wouldn't know if the new government would support it. But if you look at everything from such perspective, nothing can be done in Hong Kong," she said.
"The financial services industry accounts for 18 per cent of the city's GDP and employs about 260,000 people … Even if we build an office of a dozen employees, it's still a very small office."
Cha said that apart from making policy recommendations, it was important for the sector to complement the government's overseas promotions, as its counterparts in Singapore had been doing.
"For example, during the 2014 Occupy protests, we needed to go out to explain that Hong Kong's financial market was not affected by the sit-ins," she said.
Cha added that the industry needed "human capital" and she hoped the FSDC could organise more activities to present career options to university students.
Last month Cha was appointed a member of the newly-created Financial Leaders Forum, which will advise Financial Secretary Paul Chan Mo-po on strategies to strengthen Hong Kong's position as an international financial hub.
Members include the heads of the Monetary Authority, Securities and Futures Commission, and Hong Kong Exchanges and Clearing.
Cha said the forum would provide a good platform for discussion. "In the past, we might be minding our own businesses, but now we can forge consensus in the forum."
Tony Cheung is reporting from London