Petrobras corruption: Offshore corporation agrees to pay US$ 422 million in fines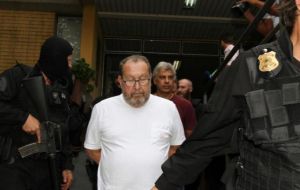 Keppel Corporation's offshore and marine unit has reached a global resolution with criminal authorities in the United States, Brazil and Singapore in relation to corrupt payments made by a former agent in Brazil. The resolution, involving three jurisdictions across the world, is unprecedented for a Singapore company.
As part of the resolution, Keppel Offshore & Marine (Keppel O&M) will pay fines amounting to US$422.2 million, to be allocated between the US, Brazil, and Singapore, the Singapore-listed conglomerate said in a statement.
The corrupt payments relate to those made by Mr Zwi Skornicki on several Keppel O&M projects in Brazil, which were carried out with the knowledge or approval of former Keppel O&M executives. Of the US$422.2 million in fines, Keppel O&M will pay about US$105.6 million to the US, including a US$4.7 million criminal fine by Keppel O&M USA.
Brazil will receive US$211.1 million or 50% of the total criminal penalty, and Singapore will get up to US$105.6 million or 25 per cent, the US Department of Justice (DOJ) said in a separate release.
In Singapore, Keppel O&M has accepted a conditional warning from the Corrupt Practices Investigation Bureau (CPIB). This was issued in lieu of prosecution for corruption offences punishable under the Prevention of Corruption Act, and part of the global resolution, said the Attorney-General's Chambers (AGC) and the CPIB in a joint statement on Saturday.
The AGC and CPIB were involved in investigative proceedings which revealed that between 2001 and 2014, Keppel O&M made corrupt payments to officials of Brazilian state-run oil company Petrobras and other parties. This was in order to win contracts with Petrobras and/or its related companies.
Keppel O&M concealed these corrupt payments by paying commissions to an intermediary, under the guise of legitimate consulting agreements, who then made payments for the benefit of officials of Petrobras and other parties.