Pyongyang lancia missile balistico: fallito il test. Ira di Trump su Twitter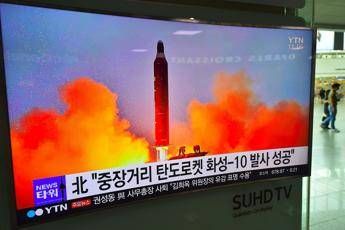 Pubblicato il: 29/04/2017 07:12
E' fallito il lancio di un missile balistico condotto dalla Corea del Nord, annunciato da tempo ed avvenuto in coincidenza con i cento giorni alla Casa Bianca di Donald Trump. Lo hanno reso noto i media sudcoreani, secondo cui il 'regno eremita' ha lanciato un missile da una zona a nord di Pyongyang, che è esploso in volo pochi secondo dopo. Si tratta del 75° test missilistico da quando Kim Jong-un è leader (LA SCHEDA).
Secondo quanto riferito dall'agenzia di stampa Yonhap, che cita una nota degli Stati maggiori sudcoreani, "la Corea del Nord ha lanciato questa mattina un missile non identificato da un sito nei pressi di Pukchang, nella provincia del Pyongan meridionale".
end affiliation zone script -->
Dal canto suo, il comandante Dave Benham, portavoce del comando americano del Pacifico, ha precisato che il missile non ha lasciato lo spazio aereo nordcoreano e non ha rappresentato una minaccia per gli Stati Uniti.
Il lancio del missile rappresenta "una mancanza di rispetto" nei confronti della Cina. Lo ha scritto su Twitter il presidente degli Stati Uniti, commentando l'ultima provocazione di Pyongyang. "La Corea del Nord non ha rispettato gli auspici della Cina e del suo molto rispettato presidente quando ha lanciato, anche se senza successo, un missile oggi", ha affermato.
North Korea disrespected the wishes of China & its highly respected President when it launched, though unsuccessfully, a missile today. Bad!

— Donald J. Trump (@realDonaldTrump) 28 aprile 2017
"Questo è un male", ha aggiunto sempre su twitter Trump, che era stato avvertito immediatamente del test missilistico, secondo quanto comunicato dalla Casa Bianca in una nota diffusa nella notte.
Negli ultimi giorni, Pechino ha intensificato le pressioni sul regime nordcoreano: secondo quanto affermato ieri dal segretario di Stato americano Rex Tillerson, la Cina sarebbe pronta a sanzioni contro Pyongyang.
SUMMIT ASEAN – Le tensioni nella penisola coreana e quelle nel mar della Cina meridionale sono al centro del summit dei leader dei Paesi del sudest asiatico che si tiene oggi a Manila, tra imponenti misure di sicurezza. Oltre 40mila tra agenti e soldati sono stati dispiegati nella capitale delle Filippine, dove i leader dell'Asean, secondo la bozza di dichiarazione, inviteranno la Corea del Nord "a cessare immediatamente tutte le azioni che violano i suoi obblighi internazionali e le risoluzioni del Consiglio di sicurezza".
"Le azioni nordcoreane – prosegue la bozza di comunicato – hanno avuto come conseguenza un'escalation delle tensioni che possono avere un impatto sulla pace e la stabilità dell'intera regione".
Quanto alle tensioni nel mar della Cina meridionale, si chiede ai Paesi coinvolti (oltre alla Cina, Vietnam, Filippine, Malaysia) di evitare azioni "come la rivendicazione di terre e la militarizzazione, che potrebbe complicare ulteriormente la situazione". I Paesi dell'Asean sono: Filippine, Vietnam, Indonesia, Malaysia, Singapore, Thailandia, Brunei, Myanmar, Cambogia e Laos.