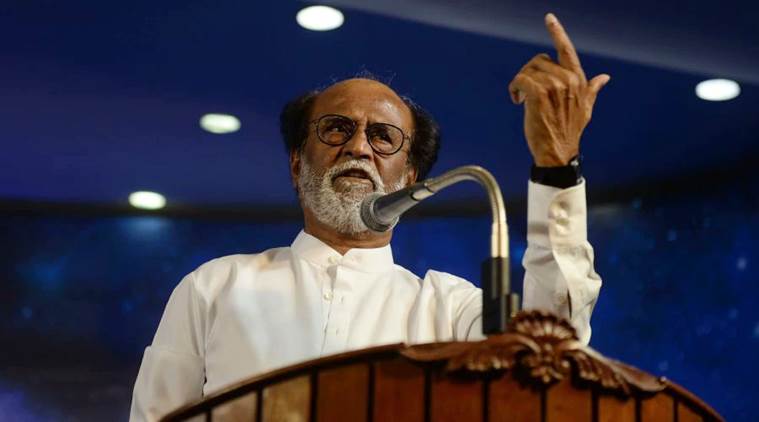 As a first step, he said, he would soon identify and grant recognition to thousands of his fan clubs scattered across the state.
A YEAR after the death of J Jayalalithaa, which led to heavy political turbulence in Tamil Nadu and triggered a split in the ruling AIADMK, actor Rajinikanth announced his entry into politics, saying on Sunday that it is time to "change the system".
"I will definitely enter politics. In the next state assembly polls, my party will contest in all the 234 constituencies. In the local body elections, maybe before the assembly polls, we will not contest. I will take a call about the (2019) Lok Sabha polls when the time comes," said the actor, who is popularly known as "Superstar".
Rajinikanth was addressing a huge gathering from various districts on the last day of a six-day "meet and photo session" with his fans.
"Democracy is at high risk. Whatever happened in the last one year in Tamil Nadu has made everyone mute in shame. If I don't take a decision at this moment, that will haunt me until death… It's time for political change, time to change the system," he said, in an indirect reference to the feud within the AIADMK.
As a first step, he said, he would soon identify and grant recognition to thousands of his fan clubs scattered across the state.
Accusing "every other government" of "looting" people, he said, "I want cadres who guard the people. I want a police who do not work as slaves for political bosses. I need such an army. And I will be the guard representing people to look after this state."
On December 26, the first day of his session with fans, Rajinikanth had announced that he would reveal his political plans on New Year's eve.
Rajnikanth fans celebrated outside the function hall in Chennai. (Source: Express photo)
The timing of Sunday's announcement is significant, given the current political turmoil in the state following the death of Jayalalithaa on December 5, 2016. Although the next assembly elections in Tamil Nadu are scheduled to be held only in 2021, political observers expect the polls to take place much earlier, with the rebel AIADMK faction gaining strength after the recent bypoll win of its leader T T V Dinakaran, the nephew of jailed party leader V K Sasikala.
The political vacuum, which the opposition DMK has struggled to fill, also prompted Rajinikanth's colleague in the Tamil movie industry, Kamal Haasan, to announce last month that he was committed to starting a party of his own, possibly in the coming weeks.
Following the announcement, a close aide of the actor said he would initially maintain an "independent" image. Asked about speculation over the BJP's support for Rajinikanth, the aide said, "The BJP has welcomed his decision, unlike other parties. But we have decided not to declare any alliance at this moment. The BJP leadership has promised resources and moral support for the party, to begin with."
Earlier, elaborating on the reason behind his political entry, Rajinikanth referred to the Bhagvad Gita and said, "Krishna told Arjuna to do do his duty. He said he will take care of the rest. Go to war, if you win, you will rule. If you die, you will die as a hero."
The announcement also caps years of intense speculation over the actor's political ambitions, which was triggered by his critical remarks ahead of the 1996 assembly polls against the then chief minister Jayalalithaa. In 2002, he asked his fans to oppose S Ramadoss's PMK after the party's members tried to stop the release of his movie 'Baba' in Tamil Nadu's northern districts.
Rajinikanth fans pose outside the function hall in Chennai. (Source: Express photo)
On Sunday, Rajinikanth said he was not entering politics for money or fame. "I have made enough money. If I wanted political power, I could have taken the throne in 1996 itself. Something that I did not desire at the age of 45 is insignificant now, at the age of 68. Moreover, if power is the reason for my political entry, will I be eligible to claim that I am spiritual?" he said, while asserting the significance of "truth, honesty, values, and transparency".
"We have to create a political system, which is spiritual in nature, without caste or religious barriers," he said.
Outlining his initial plans, the actor said every street in Tamil Nadu should have a Rajinikanth fan club. "That is our first task," he said.
According to political observers, the idea is modelled on the strategy that fuelled actor and AIADMK founder M G Ramachandran's political journey. The existence of over 10,000 MGR manrams, or fan clubs, made his political entry easier in 1973 — within 10 years, there were 15,000 such manrams with a strength of nearly 11 lakh members.
However, sources close to the actor rejected any comparison with MGR.
"MGR was political much before he was projected as a leader of the state. Even if there is a myth that Rajinikanth was active in politics in 1996, what prompted him to go against Jayalalithaa then were mostly personal issues. Being her neighbour in Poes Garden, Jayalalithaa's security arrangements during the 1991-96 period had troubled Rajinikanth a lot. On many occasions, at the peak of his career, he had to get down from his car and walk all the way home. Against PMK, he was forced to take a stand after they tried to stop his movie's release," said one of the actor's mentors.
"Except for a few of his stage appearances, Rajinikanth continues to be a shy person, neither outspoken nor a rebel. He has to be more convincing to get votes even if he hopes that his new party will get a maximum of 10 or 15 percentage of total vote share in the next assembly polls," he said.
Sources said there would be more announcements soon on the actor's plans. "He wishes to tell the people that this is his second birth after a period in which he battled critical illness and underwent treatment in Singapore," said a close aide.
For all the latest India News, download Indian Express App