Resorts World Manila president pays Guam a visit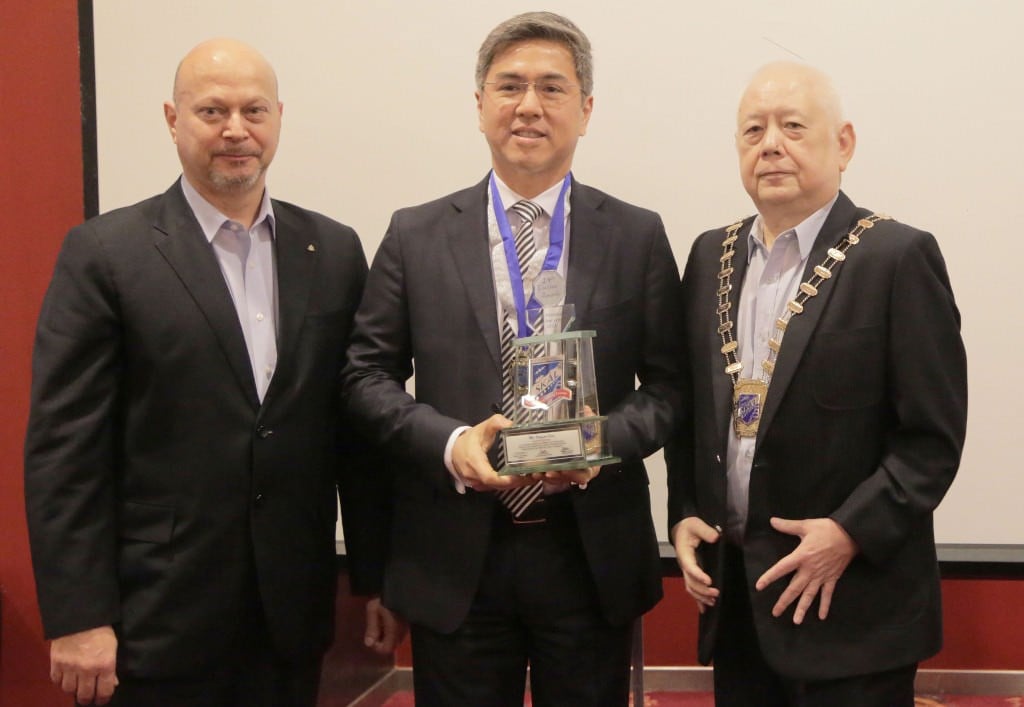 The president of Resorts World Manila, Kingson Sian, made his first trip to Guam recently.  During the brief visit he met with local leaders, and talked a little business with associates, such as a tie-up with St. Luke's Medical Center in which patients from Guam now stay at RWM hotels.  Sian says from a tourism perspective, Guam is a great place and conveniently located close to a number of major Asian cities. 
But for now RWM is banking on the Philippines, where the economy is growing at a robust 7% clip.  "So there is a lot of opportunities in the Philippines at this point. So our focus is currently on the Philippines. But who knows, in the future, as I said you're so near and obviously there will be opportunities here as well. I think there are quite a number of Filipino businessmen who have been here and done well in various industries and so we can never tell," said Sian.
Resorts World Manila was the first large scale integrated resort in the country, and since it opened in late 2009, several major competitors have followed with substantial gaming-related developments of their own. But Sian says casinos are but one element of a broad-based vision to really drive up tourism in the Philippines, adding, "It's a growing industry, but as I said, we're not just focused on the gaming component but really to integrate all the other aspects of what a tourist would want when they come and visit, and so the integrated concept I think is perfect for that. Its growing by double digit numbers, around 15% per annum. Its growing nicely. There's a lot of new interest in the industry. The fourth integrated resort will just open by December, and so I think we're all excited."
Sian predicts significant growth in Asian tourism, in step with the growth of their respective economies.  He believes it will be the driving force in the global visitor industry, for the Philippines in particular the key will be rapid, exponential growth in Chinese tourists. "Our new president just went to China and renewed our ties with the Chinese and there's been very strong interest from the Chinese to grow their tourism in the Philippines. Right now it's the third largest group of tourists to come to the Philippines contributing about half a million tourists. I believe that by next year it can grow to a million. And probably within two, three, four years it will probably overtake the Koreans on the number one spot," Sian said.
This is not the first time Sian has been positioned at the head of a significant business trend in the Philippines. He was also in on the ground floor of the call center, or business process outsourcing industry, which has blossomed into one of the country's largest, and greatest success stories. He said, "We were the first to do that, conceptualize it, brought it to the government and from almost nothing today it's a $20 billion industry. So I'm very proud of that being able to be at the forefront of developing that industry."
He says the idea was hatched during the mid-90's Asian financial crisis, when real estate developers were faced with a huge inventory of empty office buildings, and no local tenants to fill them.  Until one day a prospective tenant came in looking for space for what was then called "shared services." He shared, "We researched a little more and said if there's a guy like this that's looking for space there's probably thousands of other companies in the states that need this kind of space to house their workforce."
So they came up with the concept for an IT park, but needed government incentives to attract the tenants.  He says at first, officials were skeptical, noting, "In fact we went on a road trip and we showed them that it was already happening in India and we took them to Bangalore and other parts of Asia like Singapore where its already happening, and said that if we miss this one then it will be a big waste. Wasted opportunity. So they saw the light, we came back, and we got it done."
And the rest as they say is history, and Sian eventually moved on, recruited for a new challenge. "And then from there I shifted to what I'm doing now which is the integrated resort. Again that's a first in the country,  we probably have a four-year head start in doing this, and so  from zero employees  we're now 6,000 strong employees, and I think it's great that in your lifetime you're able to build these types of businesses," he said.