Sai of relief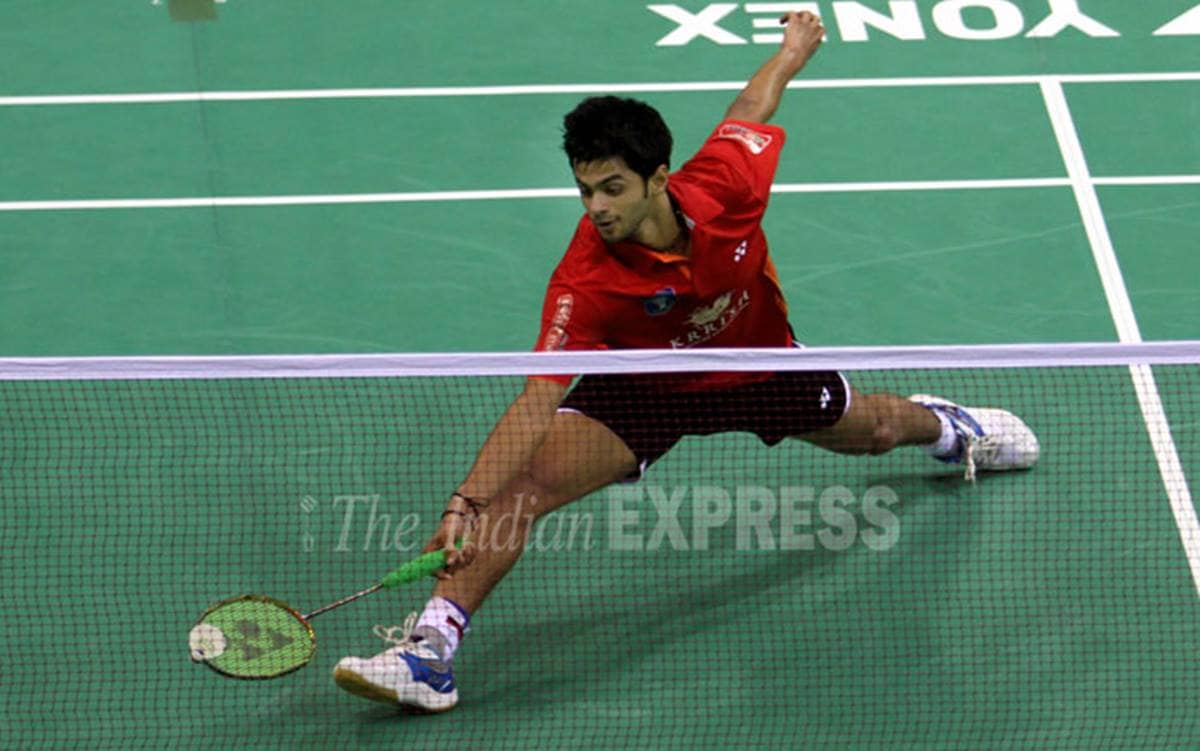 When the court is slow, he's in a hurry to finish the match and wrap up and go home," P Gopichand who knows him a little more than the Indonesian, joked at the end of the 14-21, 21-18, 21-19 see-saw match. (File Photo)
B Sai Praneeth sported a constant grimace through 72 minutes of his Round 2 match against Indonesian Anthony Ginting. Yes, he had scraped the side of his right index finger diving about and needing treatment. He'd also pleaded for a medical intervention on the penultimate point – and dug himself a couple of holes around which he scampered in desperation, causing coach Mulyo Handoyo to later palm his forehead over and over again in deep exasperation. "He always looks like that (a little ill with worry). When the court is slow, he's in a hurry to finish the match and wrap up and go home," P Gopichand who knows him a little more than the Indonesian, joked at the end of the 14-21, 21-18, 21-19 see-saw match.
Both, player and coach, conceded he had been lucky to pull off the match where he started 0-8 down, as the conditions tested India's best stroke-maker the most. But first, the match as it panned out to the bemusement of all involved, most of all the Indonesian who imploded in vintage Praneethesque fashion, losing from being 18-12 up in the decider.
Like in his opener against Hong Kong's Wei Nan, Sai Praneeth, India's 24-year-old Singapore Super Series winner, struggled with the slow shuttles, and the early Ginting blur of fast shots. So paralysed was his decision-making by the blitz that his maiden World Championship outing looked akin to a wide-eyed newbie's – 0-8, 6-16 and 12-20 before he jolted himself from the slump. Game 2 would stay close till 16-all, though Sai, with a better variety of strokes had disciplined what to do with his armoury, and was gritting out the long rallies.
The Hyderabadi's career is replete with close matches where he's been hammered from 17-all situations, not managing to close out. "But the Singapore title changed everything. I've been winning the closing stages from then," he would say later. Still struggling with the pace, but willing to stick it out in the attritional battles, Sai would assert his quality strokes to level the sets, though it was just the start of the drama.
6-2 up in the third, he would allow the busy and aggressive Ginting three spurts of points in a bunch, as the match stood poised at 12-18. "I was almost losing, that's when I relaxed and took it one point at a time. I was desperate," he said. When Sai is desperate – his stroking options zone in, and he can dig his heels quite stubbornly forgetting how beautiful his strokes are.
Three long rallies would see him retrieve doggedly, and finish with signature strokes that are unconventional from the start. Tough to tell if Ginting got carried away by Pied Piper Praneeth's skilled deceptive kills and attempted to ape it with a few of his own, a fatal error. Or if the 18-12 score simply made the Indonesian lose it and rush his returns to quickly finish off, but the tide slowly turned.
First one, then a bunch of points, Sai would start narrowing the gap that saw him simply draw out the worst from Ginting. The latter would try a dozen fancy things, going wide for the lines or too much on the front of the court, when basic body smashes would've gotten the job done. He'd also drop his speed by 10 percent – immediately giving relief to Sai who had been bamboozled by the earlier scorching pace.
Sai stayed patient while jumping on these soft shots and fleeing jail as he ran up 8 straight points to finish the match. "These conditions are as tough as they can get for a player like Sai Praneeth who likes to play his strokes and finish off," Gopichand would say.
Sai's had his best results in colder climes – a first round upset of Chong Wei at All England and had been looking forward to playing here. "It's also beautiful conditions for badminton," Gopichand would add.
No drift, no cry
They tell you to sip water straight off the tap these parts of the world – no filters needed. At the badminton stadium in Scotland, they tell you to play with no fear of the dreaded drift that wrecks havoc on games galore in smaller, intimate Asian arenas with the whirring air-conditioners.
But strokes stay true, without whizzing around madly like when drifts force adjustments from one end, and shuttles go beserk leaving players bogged down. It's easier to control the shots, though these conditions demand another kind of skill.
"Slow shuttles don't give you easy points – so even if Ginting needed just three points, he had to earn those points. If you expect the shuttles to zip around and land you points, that won't happen," Gopichand explained. "You are expected to follow up."
Typically, this would help the defensive, steady players – Chen Long, Viktor Axelsen (who detests drifts and has twice lost to Ajay Jayram in windy courts), Son Wan-Ho as well as Nozumi Okuhara and Sung Ji Hyun. Chinese top seeds in men's doubles – Li Junhui and Liu Yuchen, would be done in by the slow shuttles as would Olympic silver medallists from Malaysia Goh-Tan.
Shuttlers are eventually expected to get used to the conditions – lighting and the slow bird, as smashes start penetrating and get precise, but till then it's bound to be hard work with exact returns on the effort put on the shot without any external breeze mucking about and exaggerating or impeding where the shuttle runs off.
Saina negotiates opener
Tough first rounds are typically Saina Nehwal, but she was glad for the good workout with long rallies ahead of her pre-quarters with Korean World No 2 Sung Ji Hyun, a defensive machine like her Swiss opponent Sabrina Jaquet whom the Indian beat 21-11, 21-12.
"My first round experience is always horrible, so I tend to focus extra," she would say after the 33 minute scrap. Jaquet might not be the fittest, but she loves chasing the shuttle down.
Anyone in a hurry to finish would be punished, and Nehwal was quick on the uptake to realise that she couldn't blindly hit through a first-round opponent. While Sai needed to exercise another kind of discipline, Nehwal simply needed to cut down on the easy path. "You have to play very smart shots. It's almost like mathematics. You have to keep moving and play a shot in a way that the next shot is comfortable for you and in your control. Not like you are struggling and moving and the opponent is in control,"she would say.
So, there were three variations on the drops – angled at the last moment, and she would pick the shuttle early at the net for a juggler-like forehand. Not too chuffed about her movement on the day, she stressed she needed to do better against the Korean whom she's beaten much, but remains a tough pre-quarter opponent in a Worlds match. "Trick is to not be frustrated if Sung keeps picking, and tell yourself that your opening will do the work. You can't get outright points and hit through opponents. It's perfect conditions," coach Vimal Kumar would say. Glasgow affords no excuses.
Indian results: K Srikanth bt Lucas Corvee 21-9, 21-17; Rajiv Ouseph (Eng) bt Sameer Verma 22-20, 21-9, Jyun Ji Sung (PRK) bt Tanvi Lad 21-9 21-19; Kamilla Rytter Juhl/Christina Pedersen (Den) bt Ashwini Ponnappa/Sikki Reddy 24-22, 17-21, 21-15; Saina Nehwal bt Sabrina Jaquet (Sui) 21-11, 21-12; B Sai Praneeth bt Anthony Ginting 14-21, 21-18, 21-19; Yixin Bao/Xiaohan Yu (Chn) bt Sanjana Santosh/Arathi Sunil 21-14 21-15.
For all the latest Sports News, download Indian Express App