SEA Games: Hopes for gold all but lost for Perlas after heartbreaker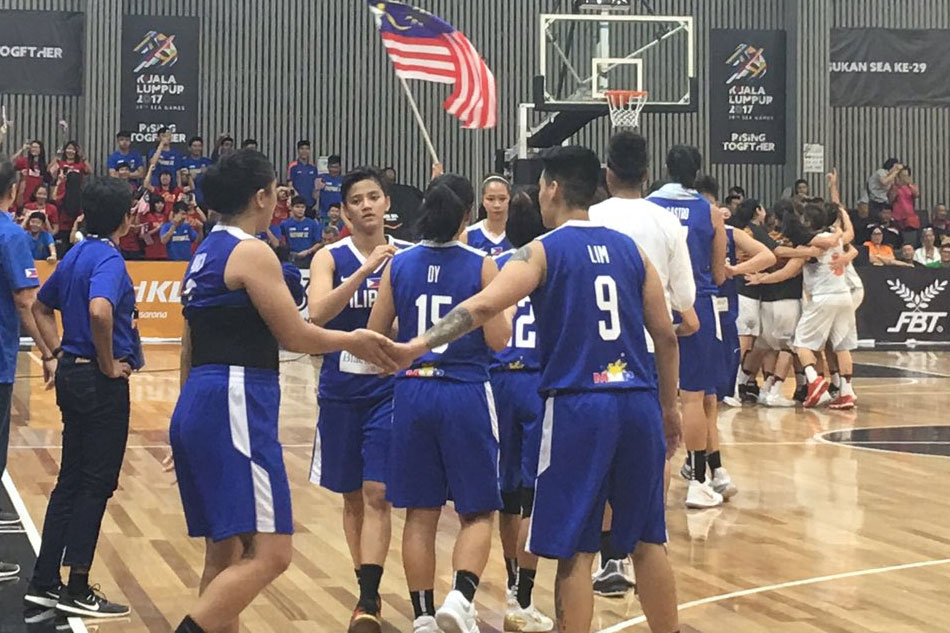 Heartbreaking loss for the Philippines. Hopes for gold all but lost for Perlas now. pic.twitter.com/38SqoAWO5p

— Camille B. Naredo (@camillenaredo) August 24, 2017
KUALA LUMPUR, Malaysia — (UPDATED) A breakthrough gold medal in women's basketball in the Southeast Asian Games will have to wait for Perlas Pilipinas.
Barely 12 hours after a remarkable come-from-behind win over Thailand, the Philippine women's basketball team could not complete a similar rally and bowed to host team Malaysia, 60-56, on Thursday morning at the MABA Stadium.
It was a sorry loss for the Filipinas, who clawed their way back from a 16-point third quarter deficit and tied the game at 54 late, but squandered chances to take the lead in the final minute.
"Well again, siguro we fell short. That's how things are talaga," said a visibly disappointed Coach Patrick Aquino after the game.
"I'm just happy that we still got in there and I know the girls are very tired already from the game last night, and the game again today," he added.
"Wala akong masabi kundi sorry that we failed the expectation of everyone."
The Filipinas stayed toe to toe with Malaysia until the second quarter, even taking a 23-21 lead with four minutes to go.
But they surrendered a 16-0 run bridging the second and third quarters, allowing Malaysia to take control of the contest. They wound up trailing by as much as 16 points, 43-27, with 6:20 left in the third frame.
Like they did the night before against Thailand, Perlas Pilipinas slowly but surely climbed their way back in the game.
Aracelie Abaca came through with clutch shots for the Philippines, beating the buzzer on consecutive possessions — first for a long jumper then on a triple — to tie the game at 54 with 2:38 left to play.
With the chance to seize the lead for the first time since the second period, however, Perlas was stunned as the referee assessed Allana Lim with a three-second violation. 
On the other end, Hui Pin Pang made one of two charities to push Malaysia ahead anew, 55-54, with 1:35 left. The Filipinas then again lost a chance to go ahead when Afril Bernardino was called for a questionable traveling violation with 69 seconds left.
Malaysia proceeded to go ahead by three points, 57-54, off a bucket by Eugene Ting Chiau Teng with less than a minute left, and a shot-clock violation in their next possession spelled the end of Perlas' hopes, as Malaysia iced the game from the line.
"I'm still proud of my girls for doing everything they can to try to win. I can see in their eyes that they really wanted to win, but unfortunately mas swerte ang kabila," said Aquino.
"If you can see the stats, we still had a great advantage like in the loss we had in Indonesia. Madami kaming stats. Ilang basket lang," he added.
Lim, who hit the game-winner against Thailand on Wednesday night, led the Filipinas with 17 points, while Analyn Almazan added 11 markers.
Malaysia shot just slightly better than the Philippines, 40% to 38%, but the hosts were awarded 20 free throws to only eight for the Pinays.
Perlas now has a 3-2 win-loss record, with one game to go against Vietnam tomorrow.
They still have a chance at the podium, pending the results of Thailand and Indonesia's games today and tomorrow.
Malaysia, meanwhile, improved to 4-0 to stay on track for another women's basketball gold after also winning the tournament two years ago in Singapore. 
The Scores:
MALAYSIA 60 – Chong 12, Yap 10, Pang 9, Low 8, Rajintiran 8, Ting 8, Saw 4, Yaakob 1.
PERLAS PILIPINAS 56 – Lim 17, Almazan 11, Abaca 7, Bernardino 7, Cabinbin 7, Dy 6, Resultay 1, Animam 0, Castro 0, Pontejos 0, Sambile 0, Tongco 0.
Quarters: 13-12, 34-23, 47-38, 60-56.
(For more sports coverage, visit the ABS-CBN Sports website.)