Sebastian Vettel smiling through the pain of qualifying last
By:
Reuters
|

Published:September 30, 2017 9:36 pm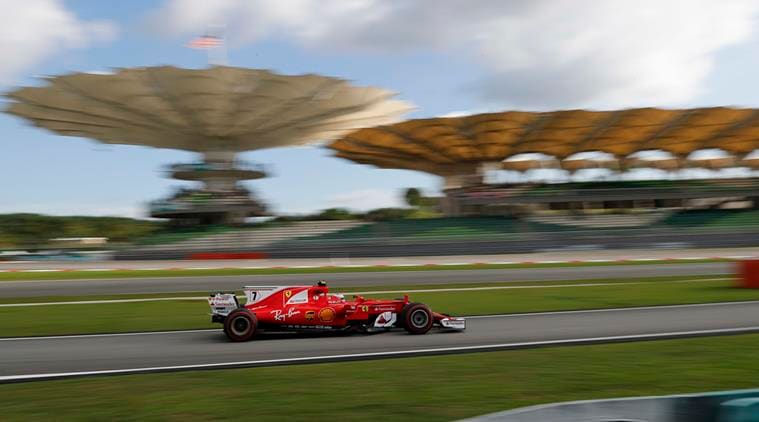 Ferrari driver Sebastian Vettel of Germany steers his car. (Source: AP)
Sebastian Vettel still had a smile on his face after qualifying for the Malaysian Grand Prix on Saturday, as the German put on a brave face despite the pain of the latest setback to strike his championship challenge.
The Ferrari driver, trails Mercedes rival Lewis Hamilton by 28 points in the standings, will start Sunday's race dead last after power unit problems prevented him from setting a time.
Hamilton, meanwhile, will begin on pole.
"It's very bitter but then it's motor racing," said the four-times champion, who ran into trouble in Saturday's final practice session and had his engine changed before qualifying.
"It's been a difficult day but the guys were phenomenal fixing the car, changing the engine in just two hours."
Vettel's title hopes have been dealt a setback for the second race in a row.
In Singapore he crashed out on the opening lap after having started from pole, leaving the way clear for Hamilton to win from fifth.
He seemed set to claw back at least some of the points he lost in Singapore this weekend, with Ferrari displaying potentially race-winning pace and Mercedes struggling to extract speed from their challenger.
Instead, Hamilton, who retired from a commanding lead in Malaysia last year, goes into Sunday's race poised to make another huge stride toward his fourth title.
The gap between the championship contenders is already the biggest it has been in an otherwise hard-fought season between the pair.
The Briton will not need to win another race this year if he triumphs on Sunday with Vettel lower than second or if he outscores the German by more than seven points.
The Malaysian race has never been won from lower than eighth on the grid.
Still, retired champion Nico Rosberg finished third last year after dropping to the back of the field with a spin on the opening lap and Vettel is optimistic he can minimise the damage.
"I think we have a very quick car this weekend so we should be able to make up a lot of ground," said the record four-times Malaysia winner, who consoled his heartbroken mechanics after getting out of his car.
"We saved a lot of tyres, we can choose the strategy so there's lots of positives," he said.
"We need to extract the maximum knowing the race here, the conditions and so on could be anything."
For all the latest Sports News, download Indian Express App