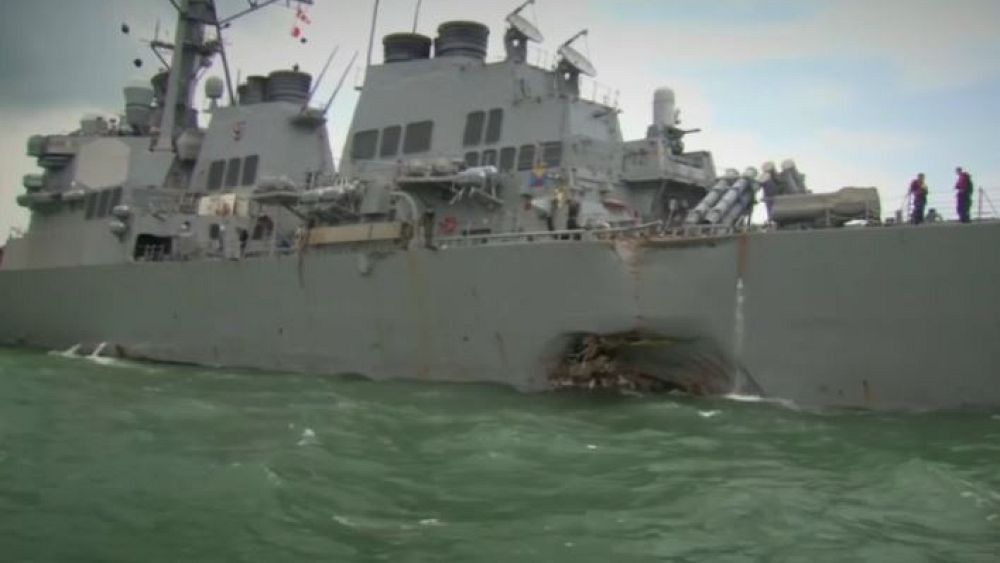 Contin\u00faa la b\u00fasqueda de los diez marines estadounidenses desaparecidos despu\u00e9s de que un destructor lanzamisisles chocara este lunes con un petrolero al este de Singapur. En el accidente otros cinco miembros de la tripulaci\u00f3n han resultado heridos.\n\n\t
U.S. Navy orders pause in operations and a safety review after the USS<\/span> John S. McCain&#8217;s collision. https:\/\/t.co\/2qX26AeF8q<\/a> pic.twitter.com\/D5MScQguY2<\/a><\/p>\u2014 USA<\/span> TODAY<\/span> (@USATODAY) 21 ao\u00fbt 2017<\/a><\/blockquote>
\n
El navío de misiles guiados, el John S. McCain, sufrió daños en su popa. Navegaba por el Estrecho de Malasia en una visita de rutina cuando chocó con el mercante Alnic MC, un barco cisterna de más de 30.000 toneladas usado para transportar petróleo y productos químicos.
Es el segundo accidente en dos meses de un buque de guerra de Estados Unidos, a lo que el presidente Donald Trump no tardó en reaccionar:
"We've got a problem in the Navy…This should have never happened." – Lt. Gen Tom McInerney on USS John S. McCain collision pic.twitter.com/anPzoHpJ0x

— FOX Business (@FoxBusiness) 21 août 2017
Poco antes, John McCain tuiteó que rezaba por la tripulación del buque. El barco lleva su nombre en homenaje al padre y al abuelo del senador, ambos ex almirantes de la Marina norteamericana durante la Segunda Guerra Mundial.
Cindy & I are keeping America's sailors aboard the USS John S McCain in our prayers tonight – appreciate the work of search & rescue crews https://t.co/jzk9giXbfg

— John McCain (@SenJohnMcCain) 21 août 2017