Singapore artists add colour to Arjan Garh Metro station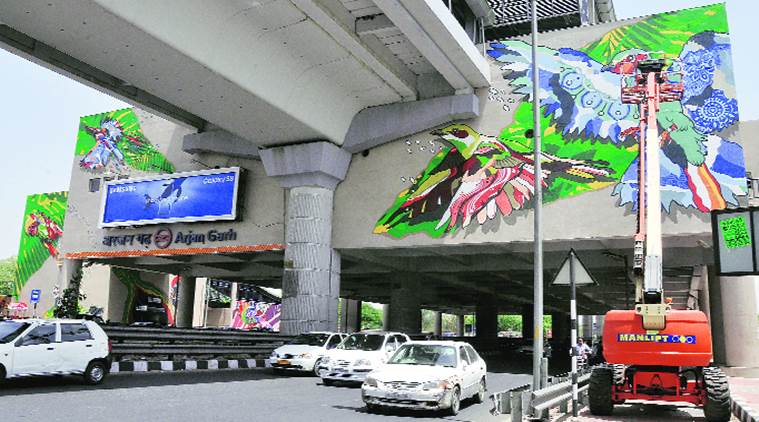 The graffiti at Arjan Garh Metro station is an ode to local birds. Manoj Kumar
Seated atop a mammoth crane facing the signboard of the Arjan Garh Metro station, on the border of Delhi and Gurgaon, 31-year-old Singaporean artist Sam Lo puts finishing touches to a colourful mural of a bird. Over the past month, Lo, her fellow graffiti artist Soph O and a handful of artists from Mexico have been revamping the station's walls with graffiti depicting the local fauna.
The project — a collaboration by the Delhi Metro Rail Corporation and NGO St+art India Foundation which promotes street art — pays an ode to birds of the country. This is the second Metro station after Govindpuri to sport graffiti. The birds the artists have painted include a "gangster myna" sporting a gold chain, a kingfisher housing the galaxy within its wings and an Indian roller beautified with motifs from Indian miniature paintings and geometric shapes. Beside it, is the word "Asha" in hindi which the two artists handpicked from the typography used in trucks. The tattoos on Lo's body also show her fondness for birds — swallows on her hip, crows on her chest and a robin on her left arm. "The first two weeks were spent on research. We were inspired by the signs and fonts used on the trucks. During our morning walks, we came across women wearing saris with beautiful patterns on them. And then we loved the flower patterns used in miniature paintings from Rajasthan and decided to use it too," she says.
Aprita Pandey, an artist who is looking after the project, says, "Before the station was constructed, this used to be a forest area. Hence, we chose to paint the birds and foliage since they are a junction between city life and the forest area that existed before." She adds that the station's interiors will sport a similar colourful look soon. Lo, who is set to head back to Singapore, says, "We are fortunate to have got an opportunity to be a part of commuters' life and their travelling experience. I hope the vibrant murals will help colour their lives, inspire them and ultimately brighten their day."
Delhi-based Hanif Deraiya (22), another contributing artist from the St+art Foundation says the project has received an enthusiastic response from onlookers and passersby. "Over the last few weeks, school children have come to me to ask questions about what we are doing. They wanted to know if they could attempt doing graffiti like me. Some wanted me to paint their schools. Once, a street vendor walked up to me and said he was so inspired that he wanted learn the artform," he says.
For all the latest India News, download Indian Express App now