Singapore bar offers luxury New Year party package for one bitcoin (that's about US$13,000 in real money)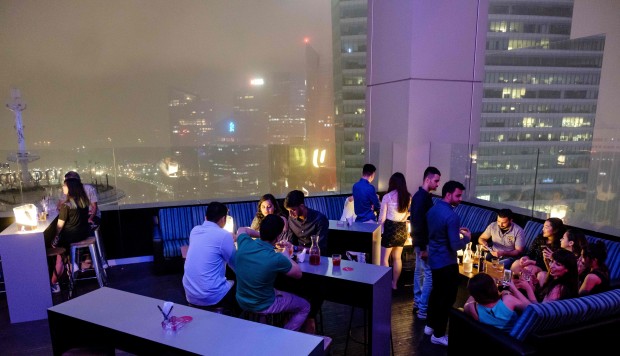 A Singapore bar that bills itself as the world's highest cryptocurrency club is offering a New Year's Eve package that includes a limousine pickup and butler service – but it'll cost you a whole bitcoin.
Skyline, on the 45th floor of a skyscraper overlooking the city state's glittering waterfront, is promising party-goers a luxury-filled night out, with champagne and oysters and caviar.
But it won't come cheap, with the price of bitcoin – which has surged dramatically in recent months – hovering around US$13,000 on Sunday.
The party at Skyline is called "Bianco", with revellers dressed in white enjoying a night of drinking and dancing before watching the New Year's fireworks display over the waterfront.
While the club has run the night before, it is the first time they are offering a bitcoin deal, and customers can also pay in regular cash.
Manager Subaish Rajamanickam said they had received a lot of inquiries about the package – but no one had yet signed up for it.
The New Year idea came after the bar ran other successful virtual currency-themed nights for people in the financial technology sector, which is booming in the city state.
What's in your virtual wallet? An illustrated guide to bitcoin
Skyline was the first club in Singapore to accept cryptocurrencies when it started taking payments in Ethereum, a bitcoin rival.
"We had a couple of cryptocurrency after-parties here, and we have also themed a night … called Crypto Thursdays," Rajamanickam said.
"So that basically got the ball rolling for cryptocurrency acceptance here at Skyline."
But most transactions are still in regular cash and there was scepticism among some customers about using bitcoin, due to its surging price and recent volatility.
"It's too expensive to buy alcohol or (conduct) any transaction using cryptocurrency in today's environment," said Spencer Campbell, a 47-year-old financial consultant.
Created in 2009 as a piece of encrypted software, bitcoin has been used to buy everything from pizza to cars, and is increasingly accepted by major companies such as online travel giant Expedia.
It has surged more than 25-fold this year and hit a record of around $19,500 earlier in December. Analysts have put the recent increases down to a decision by US regulators to allow bitcoin futures to trade on major exchanges.
But bitcoin has slipped back after a series of warnings from governments – including Singapore – and analysts about the risk and volatility associated with cryptocurrencies.
It fell more than 11 per cent after South Korea – a hotbed for cryptocurrency trading – announced curbs on anonymous trading of virtual currencies on Thursday.