Sino-Japanese ties face another rough year, with little promise on the horizon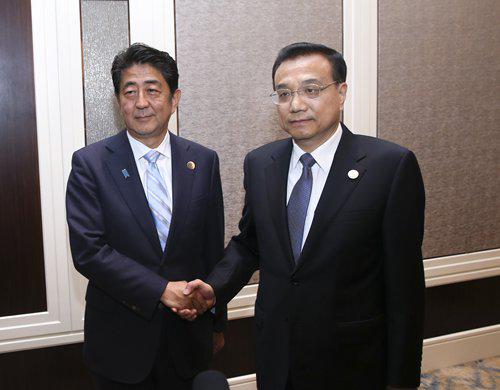 Chinese Premier Li Keqiang (right) meets with Japanese Prime Minister Shinzo Abe during the ASEM summit held in Ulan Bator, Mongolia, on July 15, 2016. Photo: Xinhua
The year gone by has witnessed little progress in the Sino-Japanese relationship with old feuds remaining unsolved, including those involving history and the Taiwan question, and new challenges emerging as Tokyo plays the role of "agitator" on the South China Sea issue, Chinese experts said.
Picking holes
The two neighboring countries clashed in March when Japan's new security legislation took effect. The new legislation gave the green light to overseas military operations by the Self-Defense Forces, and the Xinhua News Agency described Japan's move as one to "abandon its postwar pacifism" that would "push the Asia-Pacific region into an abyss of instability."
Lü Yaodong, a research fellow at the Chinese Academy of Social Sciences (CASS), told the Global Times that "it [the new security law] could cement the relationship between Japan and its ally, the US and its purpose is to contain China."
The new law will likely see the Japanese military cooperating more closely with US forces, according to the Tokyo-based Nikkei Asian Review.
Chinese Foreign Ministry spokesperson Hong Lei said at a routine press briefing in March that "the Japanese government should listen attentively to the call for justice from Japan and the international community," and "the Japanese side should take the security concerns of its Asian neighbors seriously … and stick to the path of peaceful development."
"Taiwan is another old topic between China and Japan. Japan has tried to pick holes since the pro-independence Tsai Ing-wen became the Taiwan leader," Yang Bojiang, deputy director of Japanese studies at CASS, told the Global Times.
After Tsai was elected Taiwan leader in January, Japanese Prime Minister Shinzo Abe soon sent his congratulations, saying that "Taiwan has long been Japan's friend and its election of the nation's leader symbolizes Taiwan's freedom and democracy." Abe also said that he looked forward to further cooperation and exchanges between Japan and the region, Taiwan's The China Post reported.
According to Japanese newspaper Yomiuri Shimbun, Tsai said that "Japan and Taiwan have shared issues and benefits… I want to exchange opinions on a wide range of topics related to the ocean."
Taiwan may become a new challenge to relaxing relations between China and Japan, considering US President-elect Trump's remarks on Taiwan and Japan's actions, Lü said.
In an interview with Fox News, Trump questioned whether the US should keep its long-standing position on the one-China policy.
Respect at sea
"The South China Sea issue has been another problem that emerged in 2016, which prevented the two neighbors from making progress on their relations," Lü said, adding that as a non-claimant, Japan has been an agitator and set obstacles to China.
After a Hague tribunal rejected most of China's claims in the South China Sea in July, Abe said at an ASEM summit in Mongolia that "a rules-based international order must be respected," Singapore's Straits Times reported.
China later warned Japan to stop hyping up the issue, with Chinese Premier Li Keqiang, who also attended the summit with Abe, saying that Japan should stop interfering in the issue and Liu Zhenmin, vice foreign minister, accusing a Japanese president of the International Tribunal for the Law of the Sea of manipulating "the entire proceedings."
However, it seems that China's opposition failed to stop Abe, who insisted on mentioning The Hague award at international occasions including the regional summit in Laos hosted by ASEAN as well as the G20 summit held in Hangzhou, East China's Zhejiang Province in September.
"Japan should take practical actions to act on its words on improving relations with China rather than roping in other countries in Asia by advocating the 'China threat theory' and damaging regional peace," said Lü.
Yang echoed Lü's remarks and noted that by developing closer connections with countries around China, Abe intended to build "Asia's Democratic Security Diamond."
Abe released this policy in December 2013 in which he highlighted the importance of "freedom of navigation" for trading nations in Asia such as Japan, South Korea, Australia and India, US magazine The Diplomat reported. He also criticized China for its alleged increasingly assertive posture in the East and South China Seas.
In addition to offering the Philippines two coastguard ships to "help patrol the disputed South China Sea," Japan also signed a nuclear energy pact with India during Indian Prime Minister Narendra Modi's visit to Japan in November, Reuters reported.
Xinhua said in a 2013 commentary on Japanese foreign policy that "Abe's plot to contain China is doomed to fail" as China "is no longer [a] weak and poverty-stricken country."
Chances and concerns
As for the future of relations between Japan and China, experts reached by the Global Times all mentioned the word "uncertainty" as President-elect Trump's policies towards China and Japan remain unknown.
"Sino-Japanese ties would be surely undermined if Japan keeps to the historical revisionism road and pursues expanding its power in the Asia-Pacific region," said Yang, adding that the unpredictability of Trump may bring pressure to both China and Japan and may create some chances for the two countries to alleviate tensions.
Wang Chong, deputy secretary-general of Beijing-based think tank the Charhar Institute, agreed with Yang, saying that since Japan will not be able to promote the Trans-Pacific Partnership after the expected US withdrawal under the Trump administration, Japan may see more trade cooperation with China.
More active exchanges on business and personnel could help dispel misunderstandings among the peoples, build mutual trust and eventually relax ties, Wang said.
Lü said that in order to do this, Japan should stick to to the November 2014 four-point agreement, in which the two countries agreed to resume political, diplomatic and security dialogue while acknowledging their differing positions on the Diaoyu Islands.