Smartphones get all-clear for take-off in China
China Eastern and Hainan airlines will allow passengers to use their smartphones on planes from today — but not to make actual phone calls.
The two airlines announced the move yesterday after the industry regulator issued a guideline to lift the ban on mobile phones.
Spring Airlines, a Shanghai-based carrier like China Eastern, said it will allow passengers to use phones in the air from "early this year."
From today, passengers on China Eastern flights are able to use their smartphones as well as laptops, iPads, e-books and other small-size portable electronic devices throughout the whole flight, the carrier said.
Previously, the use of phones was banned on flights by Chinese carriers. However, intercoms, remote-control toys and other devices with remote-control or radio transmitting equipment remain out of bounds on aircraft. Flouting the rules can mean a fine of up to 50,000 yuan (US$7,610).
According to the new rule on the use of portable electronic devices released yesterday, smartphones must be shifted to flight mode and the communication function must be turned off, China Eastern said.
That means passengers will merely be able to take pictures or use in-flight Wi-Fi services on their devices rather than make phone calls in the air. Phones with no flight mode facility still have to be turned off throughout the flight, according to the airline.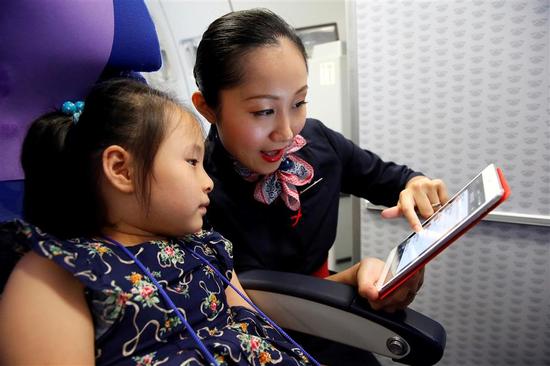 A flight attendant with China Eastern Airlines displays several services to a child passenger on an iPad on a flight yesterday.
Demands from passengers
Furthermore, earphones or chargers must be detached during taxiing, take-off, descending and landing.
Spring has launched an evaluation and will apply to the Civil Aviation Administration of China soon, said the budget carrier's spokesman Zhang Wu'an. He noted "passengers must obey the order of the crew to turn off the devices once any inference was noticed."
There have been increasing demands from passengers to be allowed to keep their smartphones switched on throughout their flights, the CAAC said in the guideline that was released on Tuesday.
"The administration has made technical tests to conclude that the condition has been mature to lift the ban on portable devices in the air," the CAAC said in the evaluation guideline on portable electronic devices on planes. It allows domestic airlines to evaluate the impact of portable electronic devices on flights and come up with their own management policies.
Airlines will have to first carry out an evaluation, submit an application and get agreement from the administration before allowing passengers to use phones on flights, a CAAC official said.
The carriers must issue specific rules on the category of devices to be allowed and when they must be switched off. For instance, smartphones and other portable electronic devices must be turned off when the airplanes are flying in low visibility weather conditions or if any interference is being caused, according to the guideline.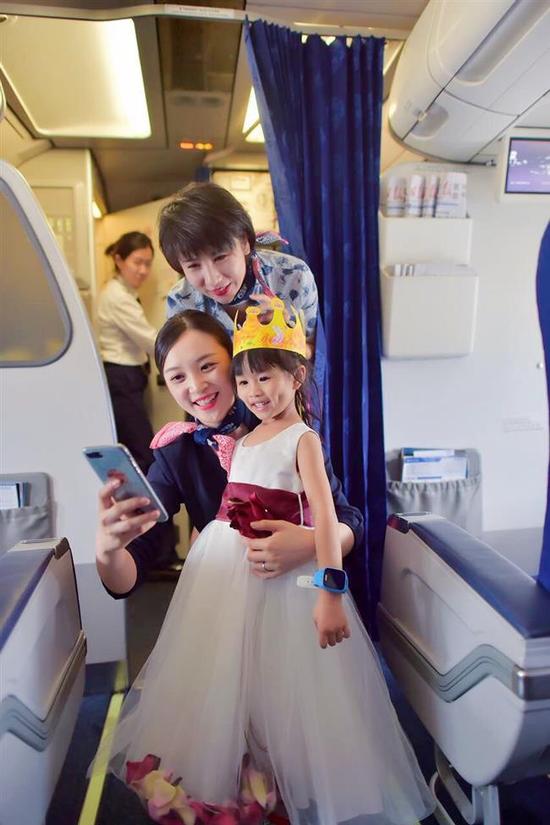 Two flight attendants take a selfie with a child passenger during a flight yesterday. Previously, the use of mobile phones is prohibited on flights by Chinese carriers.
'Cabin will be far noisier'
"I don't think it is necessary to use mobile phones on planes, and I am more concerned about flying safety," said Georges Billard, a French freshman from Bordeaux at Fudan University. "The regulator should focus more on the security angle, rather than to allow the usage of phones," he added.
"I prefer to be free from the endless WeChat messages and e-mails on phones and take some rest in the air," said Zhao Yun, a civil servant working for a government body. "I'm afraid the cabin will become far noisier when passengers can make video communications or play games on their phones."
According to an online survey about the usage of smartphones on airplanes, more than half of the respondents said they "don't want the ban to be lifted" or that they "don't care." Nearly 80 percent of the respondents said they feared smartphones could affect flying safety.
Many foreign carriers have allowed the use of smartphones during flights in the wake of the popularity of in-flight Wi-Fi services. At present, in-flight Wi-Fi services are available on a majority of airlines in the United States, Europe, Singapore and the special administrative region of Hong Kong.
More than 78 percent of overseas flights feature Wi-Fi functions. That compares with only about 2 percent of airlines in China, the world's second-largest air-travel market.
The new regulation will boost the development of in-flight Wi-Fi services among Chinese airlines, Zhang said. He added that Spring Airlines has equipped two aircraft with Wi-Fi facilities and will launch an Internet service soon.
China Eastern has opened Wi-Fi services on 74 of its aircraft. All its long-distance international routes have been equipped with Wi-Fi services, the airline said.