Smoke fills underground train station in Singapore as police usher confused passengers to safety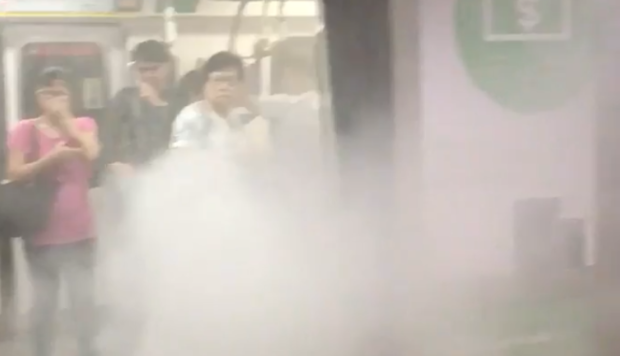 Plumes of smoke were seen on Monday at an underground train station in central Singapore, Channel News Asia reported on its website.
Videos on Twitter showed commuters rushing out of a train at the Tanjong Pagar station, covering their noses to protect themselves from grey smoke. Some of them were seen taking pictures or videos on their phones.
It was later confirmed that smoke was caused by a leak of freon gas from the train's air conditioning system. SMRT said the discharge of freon into the train tunnel "reduced visibility in parts of the station" when the platform screen doors were opened for passengers to leave the train.
Eyewitness Jeremy Tan, 25, told Channel NewsAsia that he noticed the smoke at about 3pm while on board a train.
"When we reached Tanjong Pagar, there was thick smoke filling the cabin. So the passengers rushed out," he said.
Commuter Jason Wang told the Today newspaper he feared the worst when he saw the smoke.
"Once the train doors opened, smoke was billowing out from the gap between the platform and the train," he said. "There was not much of a smell, but my first thought was 'what if there's a terrorist attack?'
"When the other commuters saw the smoke, they all quickly started running out."
Another passenger described huge plumes of smoke came from the train she was in when it pulled into Tanjong Pagar MRT Station.
"It filled the station really quickly as people started to evacuate the train," she told Channel NewsAsia.
"The police on train duties started to usher people up. The pungent smoke lingered in the station but as the initially evacuated train left the platform, the next train came and everyone boarded it and I did too. The smoke continued to come from the front of the train for the next few stops."