South American trade bloc gains strength, misses EU deal
By:
Reuters
| Brasilia |

Published: December 21, 2017 7:09 pm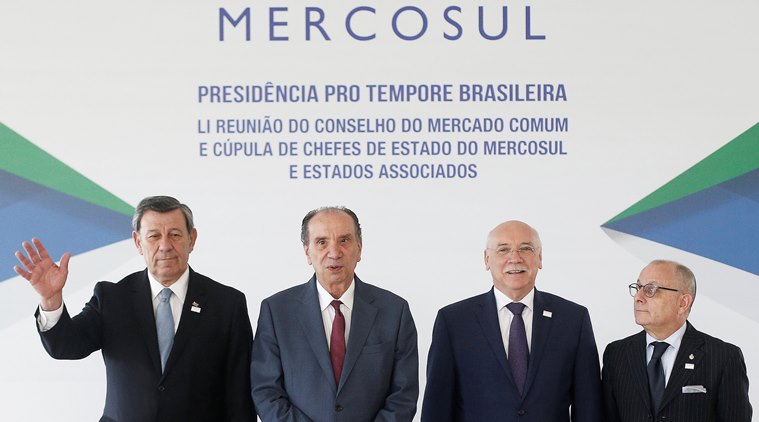 (L-R) Uruguay's Foreign Minister Rodolfo Nin Novoa, Brazil's Foreign Minister Aloysio Nunes Ferreira, Paraguay's Foreign Minister Eladio Loizaga, and Argentina's Foreign Minister Jorge Faurie pose during Mercosur trade bloc annual summit in Brasilia, Brazil December 20, 2017. (Reuters)
Leaders of the South American trade bloc Mercosur meet on Thursday in greater political unity following the expulsion of Venezuela, but their biggest aim of a free trade deal with the European Union still eludes them.
A shift from leftist to right-of-center governments in Argentina and Brazil has given the group that also includes Paraguay and Uruguay greater ideological coherence and it has focused more on trade and less on politics. "We have revitalized Mercosur by recovering its original vocation as a trade bloc based on solid democratic and human rights foundations," Brazilian Foreign Minister Aloysio Nunes told a news conference on Wednesday.
Mercosur triggered its democratic clause earlier this year and expelled Venezuela because of authoritarian actions of President Nicolas Maduro in delaying elections and jailing opposition leaders.
Negotiations with the European Union gained speed and were almost concluded this month after nearly two decades of wrangling, but stumbled on a EU delay in presenting improved offers for imports of Mercosur beef and ethanol. "There is very little left to do. We are very close," Nunes said. But he made clear the ball was in the European court and that Mercosur is waiting for an EU reply after the South Americans presented their offer covering 90 percent of goods traded.
Not everything is rosy within Mercosur. At Wednesday's ministerial meeting, there was disagreement on adopting a common policy for government procurement of goods and services, with Paraguay adamantly opposing the proposal.
A move by Uruguay to slap a customs duty on all imports except oil and capital goods as of Jan. 1 annoyed its partners, not least because trade with Mexico was exempted. Imports from other Mercosur countries will rise to 3 percent from 2 percent while goods from non-Mercosur nations will pay 5 percent instead of the current 3 percent.
Uruguayan Foreign Minister Rodolfo Novoa explained that it was a temporary emergency measure to help finance a huge budget deficit of nearly 4 percent of gross domestic product. He said the other three nations now understood it was not protectionism.
A proposal by Uruguay to negotiate free trade with China did not fly. Nunes said such an accord would have an overwhelming impact on Mercosur economies and needed careful study. Mercosur will start trade negotiations with Canada early next year, and then with Singapore and South Korea.
For all the latest World News, download Indian Express App