SW Foods brings Kedah's high-quality produce to wider Asian rice market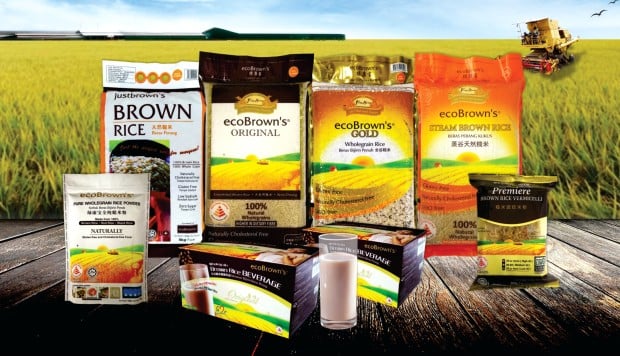 Milling high-quality rice grown from Kedah – Malaysia's "rice bowl" – Serba Wangi (SW Foods) continues to dominate the Malaysian market. Its brown rice brand, ecoBrown, has already been exported to Singapore for more than a decade – and to New Zealand in the past eight years. The company is now ready to set forth into the wider Asian market.
SW Foods has full control of its production and quality assurance processes since it purchases and grows its own rice paddies. "We ensure that what we deliver to the end consumer is nothing but good quality rice. This is our main purpose," says Low Kok Kean, managing director.
The company operates mills around Malaysia and built the first biomass co-generation power plant in the country to protect the environment by turning rice husks into useful energy and avoid any form of contamination by diesel carbon.
In the international market, we are looking for wholesalers who share our ideals and can get the job done
Low Kok Kean, managing director, Serba Wangi
Launched in 2004 and marketed as the brand for health-conscious consumers, ecoBrown's brown rice is enriched with vitamins such as B complex, B1, B2 and B6 and essential minerals. Apart from ecoBrown's, SW Foods' flagship brand JATI is the best-selling local brand with more than 20 varieties, while its Carnation and SongHe Noble Pine Crane brands offer other types such as jasmine and white rice.
Invested in variety, SW Foods produces products such as low glycemic index brown rice vermicelli and ready-to-drink, gluten-free instant brown rice beverages for people with busy lifestyles.
SW Foods is equipped to export to other countries such as Hong Kong, Australia, mainland China, and the Middle East. "In the international market, we are looking for wholesalers who share our ideals and can get the job done," Low says.
Endorsed by Singapore's Health Promotion Board, ecoBrown's products have Hazard Analysis and Critical Control Points and Good Manufacturing Practice certification.
The company has received the Reader's Digest Trusted Brand award, the BestBrand Award by BrandLaureate, Best Brown Rice by Women's Weekly Domestic Diva Award 2016, and Reader's Choice Best Brown Rice by Her World Kitchen Awards 2017.