Tamil Nadu CM says Jayalalithaa's death will be probed by commission headed by retired judge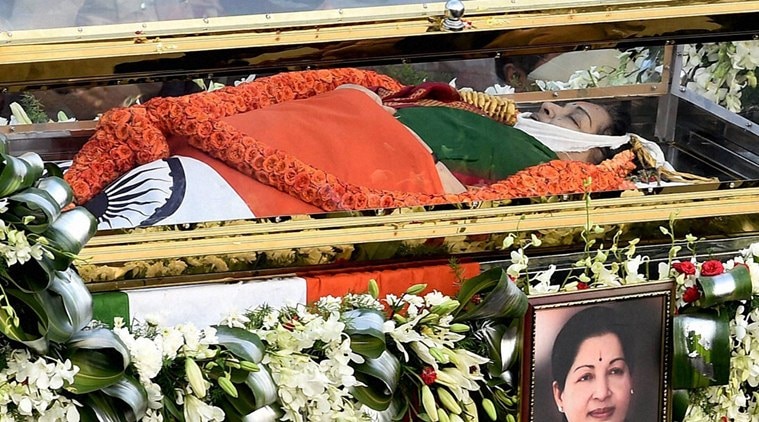 Tamil Nadu's former Chief Minister J Jayalalithaa's mortal remains being carried during her funeral procession in Chennai on Tuesday. (PTI Photo by R Senthil Kumar)
Tamil Nadu Chief Minister Edappadi K Palaniswami announced that a commission headed by a retired judge will investigate the death of former chief minister J Jayalalithaa. Jayalalithaa died on December 5 last year after suffering a cardiac arrest at the Apollo Hospital in Chennai where she had been admitted on September 22 following complaints of fever and dehydration. There were reports alleging foul play behind the death of the AIADMK supremo. The name of the judge, who will head the inquiry commission, will be announced later, Palaniswami told reporters.
Additionally, the chief minister has announced that Veda Nilayam, the Poes Garden residence of Jayalalithaa, will be turned into a memorial dedicated to her life and career. The museum will be thrown open for public viewing.
Both the decisions were major demands raised by the AIADMK faction led by former CM O Panneerselvam ahead of the merger of the two groups, the other one led by Palaniswami. A factional war had broken out soon within the party after the death of Jayalalithaa and the subsequent elevation of Sasikala, her longtime aide, to the powerful general secretary post.
However, standing in the way of the proposed merger of the two factions is TTV Dinakaran, the nephew of VK Sasikala who organised a massive rally in Melur village near Madurai. Dinakaran's rally was attended by 23 MLAs and 4 MPs of the ruling party and has the potential to spoil the merger of the two factions and even bring down the government. The ouster of Dinakaran and the family of Sasikala from the party is another condition put forward by the Panneerselvam faction for the merger to take place.
If the proposed merger happens, Palaniswami could continue as the chief minister with Panneerselvam taking charge as general secretary of the party and even assuming the role of deputy CM.
For all the latest India News, download Indian Express App