Tension between India, Pakistan puts visas a little further out of reach for people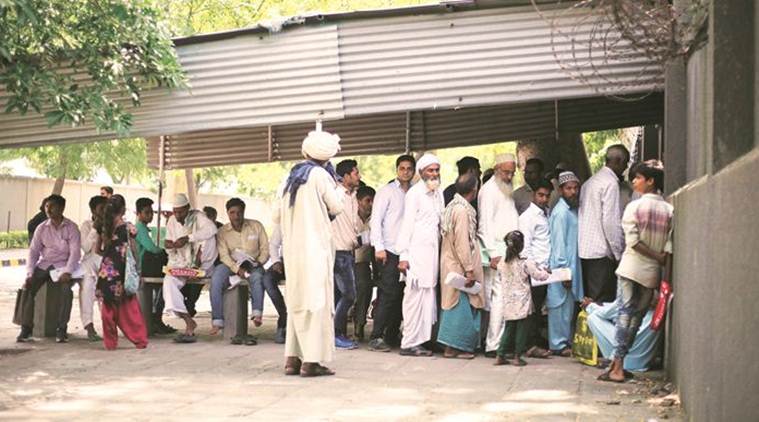 Around 200 applicants are processed every day, says the Pakistan High Commission. "There is no concept of rejection of visas" (Photographs: Tashi Tobgyal)
Every spike in tension between India and Pakistan puts visas just a little further out of reach for people on the two sides. Still, joined by death, birth or marriage, 70 years after Partition, they hope and return. Sowmiya Ashok queues up with them at the Pakistan High Commission in Delhi
The masala dabba has migrated too. It once held Belgian chocolate ice cream made by Delhi's famous sweetmeat maker 'Giani' Gurcharan Singh, who had in the 1950s crossed over from Faisalabad in Pakistan. Reshma, a fruit vendor, dips her thumb and forefinger in to lift a pinch of the tangy mix and sprinkles it on a silver-coloured paper plate of cut fruits — seb, kela, papeeta and nashpati. Sales have dipped on this hot Thursday morning; the ice cream vendor is winning with his orange popsicles.
Reshma, in her 40s, has no association to the Partition of 1947. She hails from Sawai Madhopur, Rajasthan, and lives at the jhuggis near the Singapore High Commission — a five-minute walk away. But for two decades, Reshma has sat outside the Pakistan High Commission on Andre Malraux Marg with her basket of fruits, selling fruit chaat for anything between Rs 10 and Rs 20. Only recently, "since maybe three or four years ago", she has been doubling up as a caretaker of mobile phones and bags for Indians who for a short period disappear behind the high-security walls looking for permission to go across the border.
In the diplomatic enclave of Chanakyapuri, an affluent neighbourhood in New Delhi synonymous with well-manicured lawns and an unsettling quiet, the stretch bordering the Pakistan High Commission is an anomaly — of the subcontinental variety. It is bustling with fixers, child performers, lazy dogs, and men urinating on walls.
Families get here from across the country, primarily from Uttar Pradesh and Punjab, mimicking migration patterns from 70 years ago, to hand over paperwork to officials inside the building clamped down by blue domes. They come with bundles of clothes, parathas, achaar and namkeen packets — sometimes inflatable pillows — all set for a long haul. They also come with an affidavit on Pakistani stamp paper, sent over by relatives from across the border, as proof of family ties. The documents are mostly stapled to photocopies of Pakistani "bijli ka (electricity) bills". At the bottom of one such electricity bill is a smiling Fawad Khan, the actor, endorsing bubble-top purified water.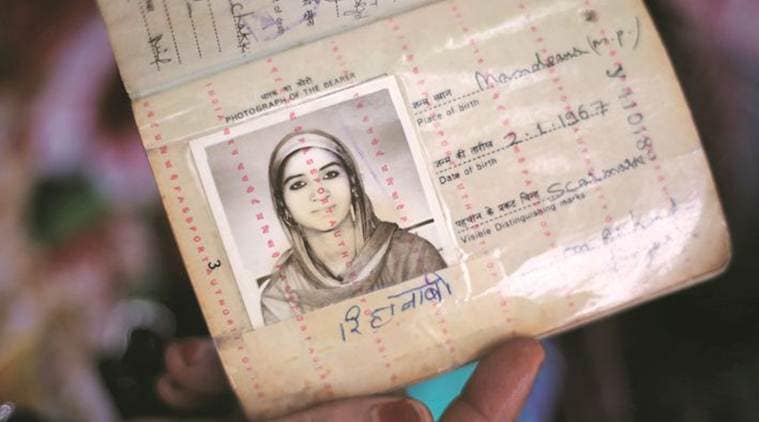 Pages from Rehana's passport (Photographs: Tashi Tobgyal)
Much of the visits to see rishtedar (relatives) are dictated by the cycle of births, deaths and marriages. "I haven't seen my sisters for a very long time," Mohammad Ramzan tells The Sunday Express. In his 70s, he has travelled from Muzaffarnagar. If given a visa, he will travel to Khanewal district in the Punjab province of Pakistan. "One of my sisters passed away two months ago. I never got to say goodbye," he says.
The Pakistan High Commission says it makes the process as "hassle-free" as possible. "We require very few documents. Stamp paper from a relative in Pakistan stating 'this is my address' and 'I am going to be hosting them' along with a utility bill of an electricity or gas connection," lists an official.
The two countries have an unusual visa regimen in that they do not issue tourist visas. Instead, as per a 1974 agreement, "visitor visas" are given to those with relatives or friends in the other country. The "visitor visa", however, is restricted to a maximum of six places, under a 2012 agreement, and at each of these places, the applicant must produce proof of a relative or friend.
The visa policy "does not fluctuate", the official insists, with "political upheaval or bilateral ties" between the two countries, both of which recently celebrated their 70th birthdays. Yet, the attack at an Indian Air Force Station base in Pathankot in January 2016 and the subsequent ceasefire violations in Kashmir, saw a "minor" reduction — 10 to 20 per cent fall in visas issued by Pakistan. "But it has picked up over the last two or three months," says the official.
While the Pakistan High Commission refuses to divulge numbers on the visa applicants, the official maintains it issues "more visas than what India issues to Pakistanis". He claims that in 2016, Pakistan handed out 6,801 visas to Hindus and Sikh yatris for visits to religious places in Pakistan. The 'religious visits' are the second highest visa category, behind 'visit visas' to see family. "This is compared to less than 950 visas issued in 2016 by the Indian side for Pakistanis," claims the official.
"On an average, 200 applicants are processed every day. Ninety per cent of the visas are processed within 48 hours. Others may take a few weeks," the Pakistan High Commission says. "There is no concept of rejection of visas on both the Pakistan and Indian sides. There is reciprocity on this. The only way a visa is left unprocessed is if the applicant chooses to withdraw it," the official says.
The visa seekers The Sunday Express spoke to, however, never mentioned the word "rejection" but "inquiry mein daal diya (it is under inquiry)" is a frequently used sentence.
*******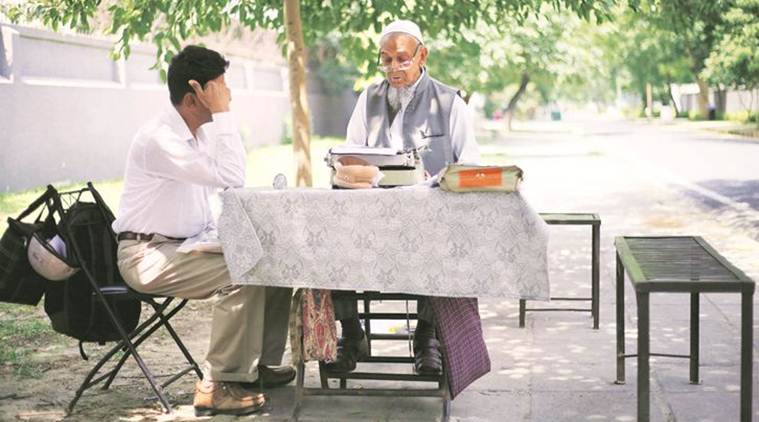 typists who hold NDMC licences sit in the lane adjoining the high commission and, for a fee, help with filling in visa forms (Photographs: Tashi Tobgyal)
The visa applications of Mohammad Haroon, 59, and that of his mother, Dinni, 80, have been "under inquiry" since November 2016. That is when Haroon first met Reshma, the fruit vendor. "Look, they have asked me to come back later," he shows Reshma a sticker, as he collects his bag from her. "The process is no faster on the other side," he tells The Sunday Express, while removing one of his rubber slippers, before placing it on the ground and sitting on it. "My family there keeps attempting to apply for visas. In fact, the reason I am here again is because they recently had visitors from India and said perhaps it was a good time for us to re-apply."
Haroon was 10 when he last visited relatives in Gujranwala in Pakistan. "It is like our Punjab. Similar food, similar language," he says, just as a cell phone, hidden in the pile of belongings that Reshma is guarding, goes off, rudely interrupting him. Over the last four decades, he has lost family across the border — deaths he did not witness and condolences he could not share in person. Much like the death of his uncle during Partition that has been told and retold in his family throughout his life. "My nephew here helps me communicate with my nephews there through smartphones," Haroon says.
If Haroon gets a visa, he and his mother Dinni will travel by bus from Shamli in Uttar Pradesh to Panipat in Haryana, onward by road to the Wagah border.
At Wagah, they will cross over by foot, before a Rs 50 ride by road to Lahore and a further 60-odd kilometre journey would ensure they reach "home" on the other side. "I am quite happy to hear that we might get visas. But if we do, the first thing I will have to do after I cross the border, is to go to the local police station and register my name," Haroon sighs.
As supporting documents, Rehana Bei's niece in Karachi has faxed her a copy of her electricity bill for March 2017; it has an outstanding amount of Pakistani Rs 34,000. Rehana's two children had picked up the fax from Bihar Bhawan, which is down the road. The family had arrived at the Nizamuddin Station in South Delhi at 6 am that morning, travelling 700 km from Mandsaur in Madhya Pradesh, through Meerut, with a bag full of clothes and food.
"Our applications have been put under inquiry for two months. They won't accept a fax, they want the originals," Rehana's daughter Humera, 'Umera' on the affidavit thanks to a spelling error in school documents, says. "I have never been to Pakistan but I have seen the country through video calls. It looks pretty much the same as here," she adds.
The process is much smoother for Kashmiris, at least four visa seekers who were non-Kashmiri told The Sunday Express. "For Kashmiris, they give visas even without them producing any affidavits," claims Shakeel Ahmad, a 52-year-old typist who has a licence from the New Delhi Municipal Council to charge a fee for helping people fill visa forms. A young photojournalist from Kashmir who visited the High Commission also spoke of separate queues for Kashmiris inside the premises. The Pakistan High Commission though insists that there is no separate process for Kashmiri visa seekers.
As the High Commission allows in visa seekers only twice during the day — at 9.30 and at 11 — Andre Malraux Marg falls into predictable lulls at other times.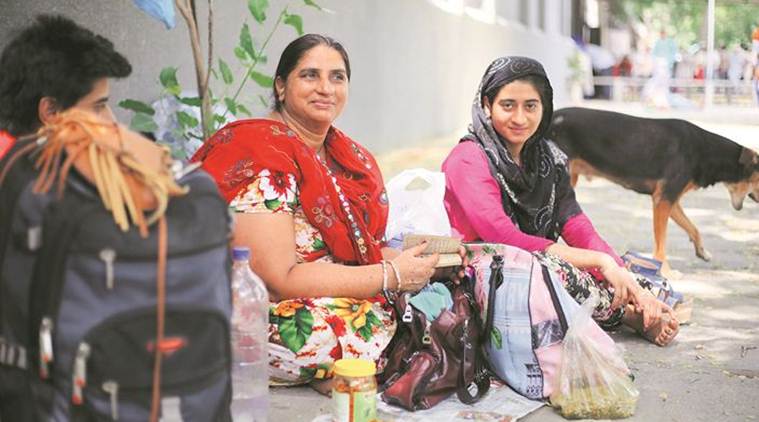 Rehana Bei and daughter Humera say their application has been "under inquiry" for two months (Photographs: Tashi Tobgyal)
Mohammad Iqbal, 67, from Pune, who first came looking for a visa in the late '70s, says, "The queue used to extend to the end of the road. I have seen at least 1,000 people line up here under the sun." Two enclosures with cement benches and tin roofs, in the space opposite a side entrance to the swanky Australian High Commission, are recent additions, according to him.
He can't be disheartened, Iqbal adds. "My daughters live in Karachi with their families, so how can I not go see them? Chalees saal se mein yahan chakkar kaat raha hoon (For 40 years, I have been doing the rounds here). The tea seller down the road is a good friend."
Iqbal, like many others outside the Pakistan High Commission, also laments that visa procedures have tightened over the years due to strained relations between the two countries. "When our daughters come to visit us, my wife declares the day as Eid," he says.
Behind Iqbal is a fairly empty 'Counter #1', reserved solely for Pakistani passport holders. Twenty steps away, a crowd of men in dhotis and long kurtas line up to pay
Rs 120 as registration fees for the visas. This is after an arbitrary amount paid to men who type out the visa forms on typewriters down the lane. "Khulne wala hai? (Is it going to open?)" asks one stranger to another, looking at the door. "Kuch umeed nahin hai. Bahut pareshan kar rahe hain (There isn't much hope. It's a lot of trouble)," comes the reply.
It is 11 am, and the queue is already packed neatly in between iron rods leading up to the door in the High Commission's thick wall. A chit drifts in the breeze from somebody's passport, a group of people pounce at it to return it to its owner. Paperwork is valuable in this queue.
At a board proclaiming, 'NO MOBILE AND BAG BEYOND THIS POINT', a woman in her 50s, an unofficial guide for visa seekers, climbs onto the railing to collect mobile phones from those in the queue. The doors open, momentarily, and at least 30 applicants are allowed entry into the High Commission.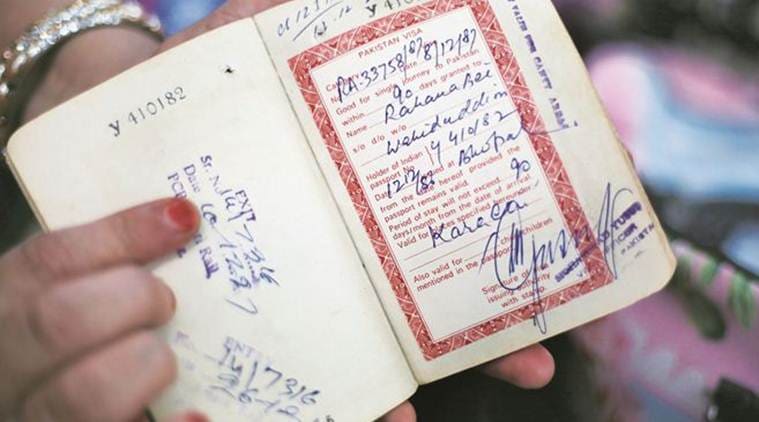 Pages from Rehana's passport (Photographs: Tashi Tobgyal)
Just as the door shuts with a thud, Deepak Chugani, 25, lands up by it. Deepak is at the Pakistan High Commission because he is in love. In the winter of 2016, at a wedding in Ahmedabad, where he is from, Deepak met a girl from across the border. She was a family friend's daughter who had accompanied his uncle's family from Pakistan.
For nine years after his birth in 1992, Deepak too was a Pakistani. "But my family migrated to India in 1993 and we opted to switch citizenship in early 2000," he says. "Now, I am lining up for a visa to visit my grandmother who lives in Pakistan," he says, before pausing and adding: "Actually, to visit my fiancée. Well, …to get engaged to my fiancée."
Unlike the others, Zaid Ali, 33, doesn't want a visa; he is here to renounce his Pakistani citizenship. On its website, the Pakistan High Commission says that those with issues while giving up citizenship can call or email their queries, but Zaid Ali has decided to show up in person to exchange his Pakistani passport for a "renunciation letter" at a fee of Rs 7,600.
For 30 years, he has been living in Aurangabad with his family, with no ties left in Pakistan. "I went across once to get a NORI (No Objection to Return to India) visa," he says.
Ali's grandfather migrated to Pakistan during Partition but in 1987, three years after he was born, his parents brought him and his siblings to India. "At heart I am an Indian, by documentation I am Pakistani," he says. "I have never been able to reveal my identity to anyone except very close friends from school. People would have had questions to ask my entire life," says Ali, adding, "So, 30 years later, I am applying for an Indian passport." The only thing pending is a letter from the Pakistan government allowing him to surrender his citizenship.
Just then emerges Akthar Ali from inside the High Commission's building, with a triumphant smile. From Rampur in Uttar Pradesh, he has received good news, after five attempts over the past year. Settling down next to Haroon, he asks The Sunday Express, "Can I please borrow your phone to make a call?"
When his daughter picks up the other end, he beams. "Visa mil gaya, beta (I got the visa)," he says. "I will come at 10 tomorrow to pick it up. Tell your mother we will leave after Bakrid," he says, hanging up. "I will only go after Eid. I do not like celebrating Eid in a different country. Apne desh me Eid manaunga. Woh apne desh mein manaenge. Uske baad parivar se milne Pakistan jaoonga (I will celebrate in my own country, they will in theirs. Then, I will go meet my family in Pakistan)."
For all the latest India News, download Indian Express App