Thai embassy wants to reconnect families with Kiwi war dead buried in Kanchanaburi War Cemetery
The Thai ambassador to New Zealand is on a mission to seek families of the Kiwi war dead buried in the Kanchanaburi War Cemetery.
Ambassador Maris Sangiampongsa, who last month led a New Zealand delegation to the site, said his embassy hoped to reconnect families with their "war heroes" in time for the next Anzac Day.
The buried New Zealanders were mostly Prisoners of War (POW) who died during the course of constructing the notorius Burma-Siam Railway.
The construction to support Japanese forces in the Burma campaign of World War II claimed the lives 60,000 war prisoners and more than 100,000 civilians.
There are 13 recorded Kiwi casualties who are buried in Kanchanaburi.
"We learned that nearly all the New Zealand graves have not had any family visitors at all, and it is really a very sad thing," Sangiampongsa said.
"There is so much lost history and connections, and the truth is, unlike the Australians, many in Thailand don't even know of New Zealand involvement in the war."
Speaking to the Herald at an event to celebrate the Thai Queen's 84th birthday in Auckland on Saturday night, the ambassador said funding or fund raising assistance could also be offered to families.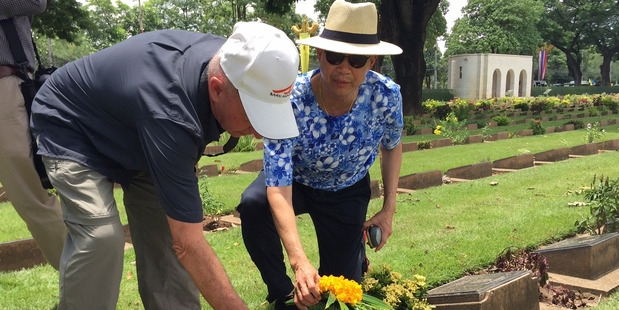 Records of POWs showed the causes of the New Zealanders' deaths included exhaustion, malaria, cholera and malnutrition.
Sgt Alvyn Messines Dingle of the Royal NZ Air Force died on active service when his aircraft was shot down by a Japanese patrol boat.
Another pilot officer Donals Sidney Anderson was just 23 when he lost his life after his Spitfire crashed.
"Hopefully by the next Anzac Day, with the help of their families, we can give these war heroes the honour they truly deserve," Sangiampongsa said.
Death Railway researcher Andrew Snow said New Zealand soldiers did not fight in the Asian area during World War II.
"The New Zealanders we have here in the cemetery were mostly those who had been living in Australia and therefore were in the Australian army," Snow said.
"Or expats who were working in Singapore and joined the volunteer forces in Singapore and consequently came up here to work on the railway."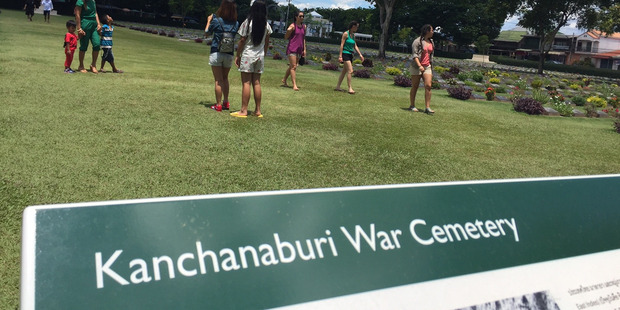 During the construction, 12,621 Allied POWs died, including 6904 British, 2802 Australians, 2782 Dutch and 133 Americans.
More than 100 Japanese officials were tried for war crimes because of their brutalization of POWs in the railway construction, and 32 were sentenced to death.
Phil Goff, Labour associate spokesperson for Veteran Affairs, said the Thai embassy's offer was a "nice gesture".
"I think any way of paying respect to those that lost their lives in the war should be explored," said Goff, who is also a mayoral candidate for Auckland.
Goff is helping families of defence force personnel buried in Malaysia fight for the repatriation of bodies of 32 men who died while serving in the Malaya Emergency and the Vietnam War.
However, he believed those buried in Kanchanaburi should remain there.
"The Commonwealth Grave Cemeteries, such as the one in Kanchanaburi, are beautifully maintained and most people don't want them disturbed," Goff said.
"Also, if you begin the process of involving military personnel who died and are buried overseas during World War II, the numbers would just be too huge."
SEEKING THE FAMILIES OF
• Anderson, Donals Sidney – Pilot Officer, Royal New Zealand Air Force 152 Squadron
• Burling, Norman Gilbert – Lance Corporal, 8 Division Employment Platoon
• Buttle, Ronald Wensley – Private, 2/20 Battalion, Austrlian Infantry
• Campbell, Daniel Paterson – Private, 2/29 Battalion, Australian Infantry
• Cooper, Alfred John Charles – Gunner, 118 Field Regiment, Royal Artillery
• Dingle, Alvyn Messines – Sergeant, Royal New Zealand Air Force 113 Squadron
• Dunningham, Albert Lawrence – Lance Corporal, Federated Malay States Volunteer Force (Armoured Car Squadron)
• Gordon, Roderick – Captain, British Special Forces
• Gray, Hughie – Private, 2 Company Australian Army Service Corps
• Jones, Mervyn – Gunner, 2/10 Field Regiment, Royal Australian Artillery
• Lloyd, John Hanbury Gordon – Sergeant, 27 Brigade, Australian Infantry
• Morrison, Dennis Home – Sergeant, Federated Malay States Volunteer Force (3rd Negri Sembilan) Battalian
• Wilkie, Donald John Talbot – Private, Federated Malay States Volunteer Force (Armoured Car Squadron)