There's still room in the inn even though the Hong Kong Rugby Sevens are on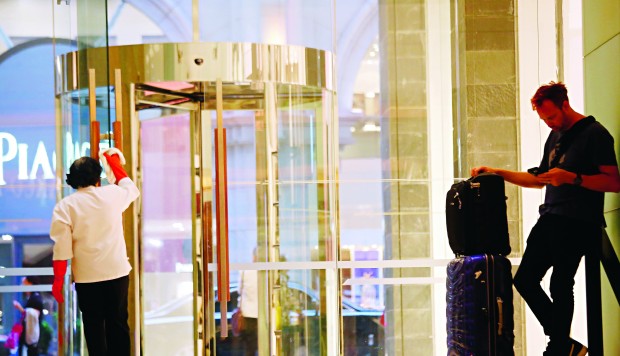 The long-awaited Rugby Sevens tournament, which starts on Friday, failed to stimulate demand for tourist beds in Hong Kong as hotels near the stadium for the first time still have rooms available during the three-day extravaganza, according to the Federation of Kong Kong Hotel Owners.
Occupancy at Wan Chai and Causeway Bay hotels was 90 per cent as of Thursday, compared with full houses in previous years, while room rates dropped around 10 per cent over the same period.
One reason was that Singapore – a new destination for the Sevens World Series – will hold its event in a week's time, said Michael Li Hon-sing, executive director of the federation.
"This is the first year that hotels near the stadium still have available rooms," said Li. He added that all the hotels were usually full a few days ahead of the start of the tournament, and rates could easily reach HK$2,000 for a standard room in a three-star hotel.
The poorer hotel booking during one of the biggest sporting events of the year is also a reflection of the difficult times faced by the travel industry amid dwindling tourist numbers.
According to Li, overall hotel occupancy was down 6 to 7 percentage points to around 82 per cent in February from a year earlier, while room rates declined 12 per cent to around HK$1,200 – a level last seen about four years ago.
"Three-star and four-star hotels suffered the most. Rates of some dropped more than 20 per cent," Li added.
Li said that during the Severe Acute Respiratory Syndrome (Sars) outbreak in 2003, hotels saw a sharp drop of occupancy for only three months – during the worst period – but now they saw no light at the end of the tunnel.
"When will we see a turnaround? Honestly I don't know," Li said, but industry players feared the current downturn could last until next year.
Li added that hotels would join forces with the Tourism Board to launch promotions to attract overseas tourists in a bid to diversify its guest mix.
But he said he was confident that all hotels could survive the downturn as most were backed by large groups with substantial financial support and long-term investment plans.
" Shutdowns? Hostels and guest houses might, but not hotels." Li said.