Thorny issue for Hong Kong provides a perfect test of diplomatic wisdom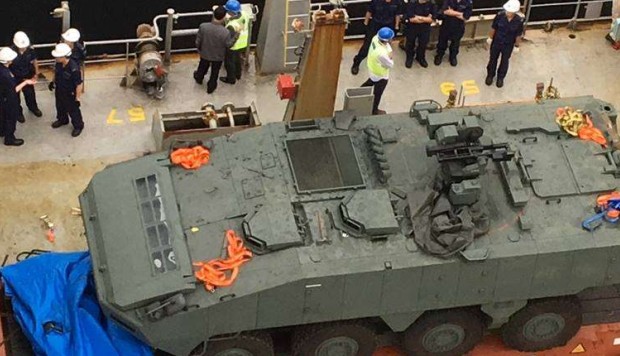 When Hong Kong claims to be "Asia's world city", it is generally associated with merits such as cultural diversity, openness and trendy living, but now it seems it could mean something completely different as the city finds itself dragged into the complicated world of diplomatic wrangling.
The customs seizure of nine Singapore-bound military vehicles shipped from Taiwan not only shocked the whole town but also shone the spotlight on "Project Starlight", a once-secret and still low-profile military link between Singapore and Taiwan that has existed for decades.
The project was initiated by the city state's founding father and former prime minister, Lee Kuan Yew, and the late Taiwanese leader Chiang Kai-shek in the 1970s. The deal was ratified by Chiang's son, Chiang Ching-kuo, for Taiwan to help Singaporean troops with overseas training.
So why the sudden interception now, which Hong Kong government "sources" have willingly confirmed with the media, when this is presumably not the first time there has been such a transshipment of military equipment under the long-running Project Starlight?
Something regarded as usual practice in the past cannot necessarily be taken for granted today in a changing international political landscape
Beijing was quick enough to respond that it "always opposes countries with formal diplomatic ties with China to develop any type of official contacts with Taiwan, including military exchanges and cooperation". It was later reported that, rather than a routine inspection, this was the result of Hong Kong Customs receiving a tip-off from Xiamen Port, where the container ship was berthed briefly before heading to Hong Kong.
The answer seems to be written on the wall: something regarded as usual practice in the past cannot necessarily be taken for granted today in a changing international political landscape. It looks like Beijing is not going to turn a blind eye to official contacts that any country that recognises China maintains with Taiwan under its pro-independence leader, Tsai Ing-wen.
Another interesting perspective: it happened at a time when Hong Kong's leadership race has entered a critical stage, with incumbent Chief Executive Leung Chun-ying expected to seek a second term; his major rivals are gearing up for an election campaign, but all are anxiously waiting for Beijing's final signal before they can be off the starting blocks.
Safeguarding national security and sovereignty is one of the key criteria Beijing has set for Hong Kong's future leader, which can be a real test when it comes to handling thorny cases. How smoothly the controversy over the seized armoured personnel vehicles can be eventually dealt with depends on the diplomatic wisdom of Beijing and Singapore, as well as the Hong Kong government. The situation is mired in intrigue and subtle sensitivities, with Singapore dispatching a team of military officers to Hong Kong, while the city gets its instructions from Beijing on the matter.
It appears, again, to prove the unique role of Hong Kong in China's diplomacy. It seems the city has been picked as the appropriate venue to solve this diplomatic row – if the nine armoured vehicles being impounded here was indeed a result of intelligence from the mainland. Imagine how much bigger the diplomatic storm would have been if they were seized in Xiamen.
Hong Kong, in fact, has been regarded as a proper venue by related parties for quite sensitive diplomatic matters, from the Sino-US exchanges on the Edward Snowden saga three years ago, to non-official talks in August between Philippine President Rodrigo Duterte's special envoy and Beijing's representatives on the South China Sea dispute, to mention just a few high-profile cases.
While Beijing does not allow Hong Kong, under "one country, two systems", to be used as a convenient base by other countries engaging in activities it considers damaging to national sovereignty and security, the city can still be a perfect problem-solving venue.
And it also gives Beijing an idea of the potential for diplomacy among the main "dark horses" for picking the leader of this "world city".