Trump's shadow looms at last meeting between Xi and Obama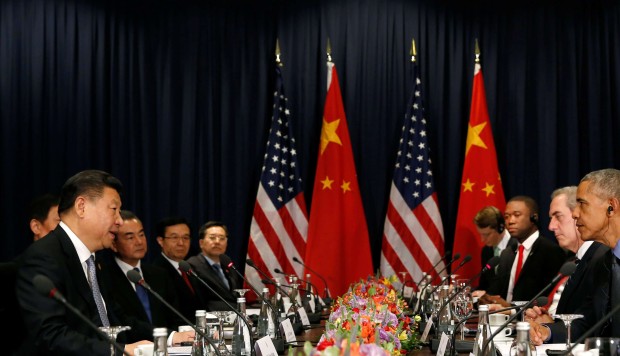 Chinese President Xi Jinping and his US counterpart Barack Obama have stressed the importance of a "smooth transition" in bilateral ties amid unprecedented uncertainty over Donald Trump's election victory.
Highlighting Beijing's concern about the prospect of Sino-US ­relations under Trump, Xi said the ties between the nations were "at a hinge moment" during a meeting with Obama on the sidelines of the Asia-Pacific Economic Cooperation summit in Lima, Peru.
"I hope the two sides will work together to focus on cooperation, manage our differences and make sure there is a smooth transition in the relationship and that it will continue to grow going forward," Xi told Obama at their third meeting of the year.
With Obama gone, Trump in, US-China rivalry is set to intensify
Both leaders acknowledged "the uniquely consequential nature of US-China relations" and the need to forge more stable and productive ties, according to a statement from the White House.
Although neither mentioned the US president-elect by name in their opening remarks, analysts said the last official meeting between Xi and Obama, who will leave office in January, had largely been overshadowed by Trump's election victory this month.
Although Trump has yet to pick his foreign policy team or roll out his policy agenda, his remarks during the US campaign have stoked fears of protectionism among top trading partners such as China. Trump branded China a currency manipulator and promised to slap large tariffs on its exports during the campaign.
US President Barack Obama leaves legacy of deeper engagement with China
"Turning his trade-bashing campaign talk into actual policies could … drag his country and the wider world into deeper economic distress," Xinhua news agency warned on Saturday.
At their ninth meeting since Xi took office in late 2012, the Chinese president praised Obama for strengthening bilateral ties.
Xi also reiterated that "cooperation is the only right path" for Sino-US relations, a message he first gave Trump during a telephone call last week.
Analysts said the remarks by Xi were also aimed at reining in the incoming US president, who appeared to hold conservative and critical views towards China.
China tells Trump that climate change is not a hoax
"It looks likely that Trump will reinstate George W. Bush's neoconservative policies and will almost definitely be tougher on China," Huang Jing, an analyst at the National University of Singapore, said.
"While it can be argued that Trump may be conveniently using hardline policies against China to deal with domestic politics in a deeply polarised America, Beijing is apparently reluctant to see the return of isolationism and China-bashing in Washington."
Xi and Obama also discussed human rights, state-sponsored hacking and territorial and maritime disputes involving China, according to the White House.