U.N. votes for Japan co-drafted resolution slamming North Korea for diverting dire food funds to arms programs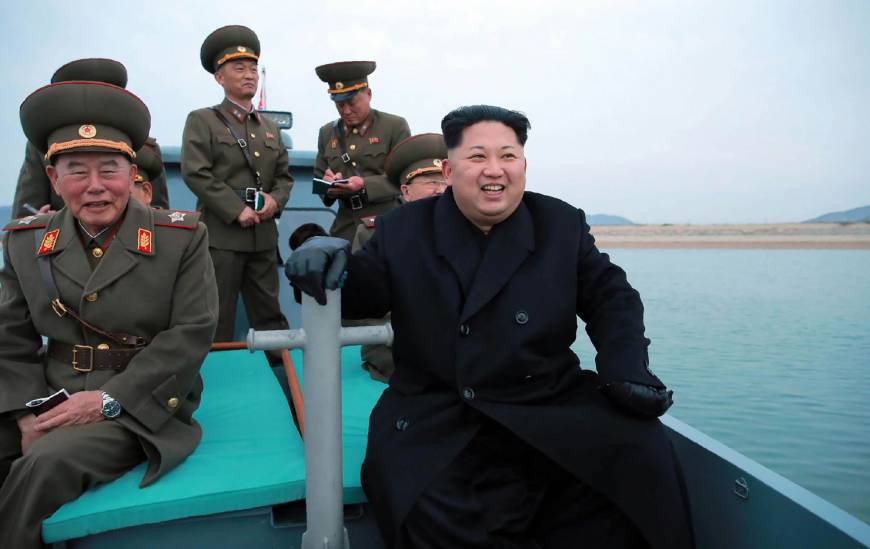 UNITED NATIONS – U.N. member states on Tuesday condemned widespread human rights violations in North Korea and expressed concerns that funds needed to ease the dire humanitarian crisis are spent on Pyongyang's missile and nuclear arms programs.
A resolution drafted by Japan and the European Union was adopted by a consensus vote in the General Assembly's committee on humanitarian affairs.
Following the vote, diplomats from China, Pyongyang's ally, Russia, Syria, Iran and Cuba took the floor to state they were disassociating themselves from the outcome.
The full General Assembly is expected to vote on the measure next month.
North Korea has conducted two nuclear tests this year and test-fired a series of missiles, even as 18 million North Koreans out of a total population of 25 million are facing food shortages, Japan's ambassador said.
"The authorities of the DPRK (North Korea), without regard to the plight of their own citizens, divert their limited resources to develop weapons of mass destruction," said Ambassador Koro Bessho.
"Such institutional decision itself is a human rights violation," he told the committee.
North Korean counselor Ri Song Chol responded: "Japan should mind its own business."
Pyongyang "categorically rejects" the resolution, said the North Korean diplomat, describing it as one-sided and an "extreme manifestation of politicization."
The resolution for the third year encourages the Security Council to refer North Korea to the International Criminal Court for war crimes investigation.
Such a step appears unlikely, however, with China widely expected to use its veto to block such a measure.
The vote came as the United States and China were locked in negotiations on a new Security Council draft resolution to tighten sanctions on North Korea following Pyongyang's missile and nuclear tests.
The new sanctions are expected to target North Korean exports of coal to China among other measures, U.N. diplomats said.
The U.N.'s new rights expert on North Korea, Argentine Tomas Quintana, is In an unusual move, the General Assembly's human rights committee approved Tuesday's resolution sponsored by Japan and the European Union without a vote despite North Korea's vehement opposition.
North Korean Counselor Ri Song Chol told the committee before the vote that his government totally rejects the resolution as "full of lies, fabrications," calling it "an illegal and unlawful document, a plot, which is not worth … consideration."
"In this way, we do not even fear the need to call for a vote," Ri said. "Even if this draft resolution is railroaded, it is crystal clear to everyone that this cannot be considered as a consensus."
He then urged U.N. members to oppose the adoption by dissociating their countries from the consensus, and a number did, including Syria, China, Egypt, Singapore, Iran and Venezuela, which said they oppose the "politicization" of human rights and resolutions singling out specific countries.
The committee's adoption of the resolution by consensus, nonetheless, virtually assures its approval by the 193-member General Assembly when it is put to a vote next month.
The draft resolution expresses "very serious concern" at continuing reports of North Korean human rights violations including torture, rape, public executions, arbitrary executions, severe restrictions on freedom of religion, expression and peaceful assembly, and the absence of due process and the rule of law.
It "strongly urges" the government to end all these abuses and immediately release all political prisoners "unconditionally."
The draft resolution expresses concern at North Korea's failure to prosecute those responsible for human rights abuses, including violations a U.N. commission of inquiry has said may account to crimes against humanity.
It urges the Security Council to consider referring the situation in North Korea to the International Criminal Court and to consider sanctions against those most responsible for rights abuses.
"With this resolution the international community will again send a clear message to the DPRK regime that human rights violations must stop and that those most responsible will be held accountable," U.S. Deputy Ambassador Sarah Mendelson told the committee, using the initials of the country's official name, the Democratic People's Republic of Korea.
Japan's Bessho said North Korea continues to divert its limited resources to develop weapons of mass destruction in spite of the "dire humanitarian situation" in the country, where a U.N. report said 18 million of the country's 24.9 million people need assistance.