UN chief-designate announces Transition Team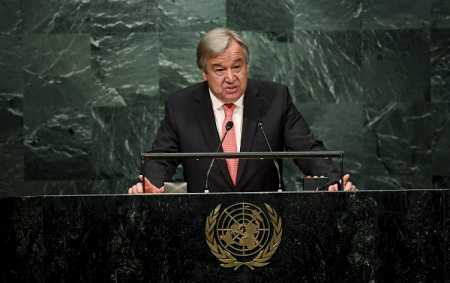 File Photo AFP-Lehtikuva
UN Secretary-General-designate Antonio Guterres on Friday announced the composition of a transition team that will help him prepare for the assumption of his duties on Jan. 1, 2017 as the new UN chief.
The team groups the team chief and several senior advisors to Guterres, who was formally appointed as the next UN secretary-general by the UN General Assembly on Thursday, the UN Spokesperson's Office said. The five members include three women.
 Transition team chief is Kyung-wha Kang, who is from the Republic of Korea and previously served as deputy high commissioner for human rights and director general of International Relations at the Ministry of Foreign Affairs and Trade of the Republic of Korea.
She is currently deputy emergency relief coordinator and assistant secretary-general for humanitarian affairs.  
Senior advisor and spokesperson is Melissa Fleming, a U.S. citizen, who has held leading international communications positions at the Organization for Security and Cooperation in Europe (OSCE), with a focus on human rights, conflict prevention and reconciliation.
She used to be at the International Atomic Energy Agency (IAEA) on nuclear non-proliferation, safety and security. She is currently head of communications and spokesperson for the UN high commissioner for refugees at the UN agency known as UNHCR.
Michelle Gyles-McDonnough, who is from Jamaica, is also a senior advisor. She has practiced privately as a lawyer, served as advisor to the secretary-general of the Organization of American States and has deep development experience within the UN Development Programme (UNDP), including as UN resident coordinator for Malaysia, Singapore and Brunei Darussalam.
She's currently deputy assistant administrator and deputy regional director designate for Asia and the Pacific.
Another senior adviser is Joao Madureira, a Portuguese. He has a distinguished career in his country's diplomatic service. He is currently minister counsellor in the Permanent Mission of Portugal to the United Nations.
Radhouane Nouicer, who is from Tunisia, is also a senior advisor. He served at UNHCR for over 18 years in the field and as director of the Middle East and North Africa Bureau. He was secretary of state for foreign affairs in the Tunisian Transitional Government in 2011. He is currently regional advisor for the Yemen humanitarian crisis.  
The Transition Team will interact with UN officials, member states and civil society to ensure an informed and smooth transition, the UN Spokesperson's Office said.