Updates: Sindhu vs Okuhara, World Championship final
PV Sindhu got rousing response from the crowd in Glasgow on Sunday in the World Championship final.
She leads 7-5 in first game.
Sindhu has the momentum and leads 11-5!
Okuhara injected fresh pace and is in the lead.
The Japanese leads 17-14.
Magnificent comeback from Sindhu! Scores level 18-18 in first game.
Sindhu loses first game 19-21.
Sindhu makes good start in second game and leads 9-5.
Sindhu leads 11-9 at the mid-game interval. 
What a return from Okuhara! But Sindhu stays in lead 14-13.
After another tiring rally the Japanese makes it 16-17.
Sindhu is three points away from taking the second game.
The Japanese wins another intense rally to make it 20-20.
What an exhausting rally! With that Sindhu wins second game 22-20.
Wearing yellow jersey, is gold on the cards for Rio Olympics silver medallist?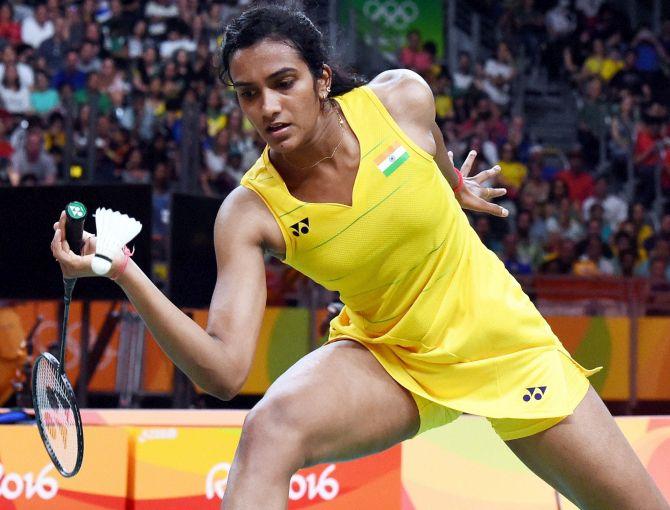 IMAGE: P V Sindhu in actioni. Photograph: Atul Yadav/PTI
Olympic silver medallist PV Sindhu is on course to become the first Indian to win a gold at the badminton World Championship as she takes on Japan's Nozomi Okuhara in the final, in Glasgow, on Sunday.
The 22-year-old Sindhu notched up a straight-game 21-13, 21-10 win over World No. 10 Chen Yufei of China to storm into the final.
Okuhara had beaten Saina Nehwal 12-21, 21-17, 21-10 in the first semi-finals to deny an all-India final.
Sindhu has a 3-3 head-to-head record against Okuhara in their last six meetings. But, the Indian has an upper hand in the last two meetings at Rio Olympics and 2017 Singapore Open.
This is Sindhu's first-ever appearance in the final of the World Championshipe.
This will also be a third medal for Sindhu in the World Championship, having won bronze twice in 2013 and 2014 after losing at the semi-final stage in both the editions.
India has won one silver (through Saina in 2015) and four bronze in the World Championships before this Glasgow edition.
Prakash Padukone was the first Indian to have won a medal with his bronze in men's singles in 1983 before the Indian women's doubles pair of Jwala Gutta and Ashwini Ponnappa bagged a bronze in 2011.
With this win, Sindhu also became the only second Indian to reach the final of a World Championship after Saina achieved that feat in the last edition at Jakarta.
It will also be India's best ever show in a World Championship as the country will now grab two medals for the first time.