US tries to clear waters after North Korea 'armada' confusion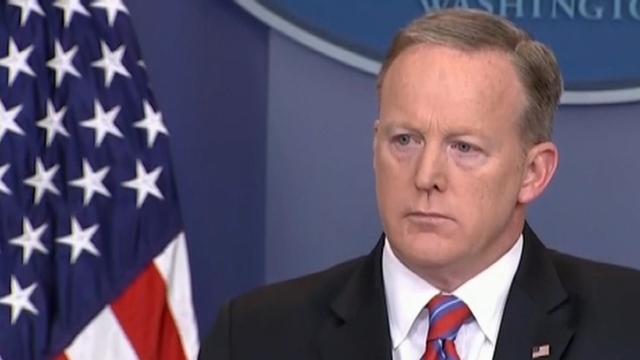 The Trump administration on Wednesday tried to clear the waters after it gave confusing messages concerning the whereabouts of a US supercarrier that supposedly was steaming toward North Korea last week.
Amid soaring tensions ahead of North Korea's apparent ramping up for a sixth nuclear test, the Navy on April 8 said it was directing a naval strike group headed by the USS Carl Vinson aircraft carrier to "sail north" from the waters off Singapore, as a "prudent measure" to deter Pyongyang.
"We are sending an armada. Very powerful," were the words of President Donald Trump, and other officials made it sound like the ships were plowing toward the region.
"A carrier group steaming into an area like that, the forward presence of that is clearly… a huge deterrent. So, I think it serves multiple capabilities," White House spokesman Sean Spicer said April 11.
Pentagon chief Jim Mattis said the Vinson was "on her way up" to the region.
But the Navy on Tuesday admitted the ships were in fact sent in the opposite direction – away from Singapore and toward Australia to conduct drills with the Australian navy.
Defence officials said the Vinson wouldn't be anywhere near North Korea before next week at the earliest – it is thousands of nautical miles from the Java Sea where the ship was located over the weekend to the Sea of Japan.
Critics pounced on the discrepancy as a dangerous miscommunication, saying it fed into North Korea's narrative that America is all bluster and doesn't follow through on threats.
It also comes as the White House faces ongoing credibility issues on a broad range of topics including the size of Trump's inaugural crowd, his unsubstantiated claim that he was "wiretapped" by the Obama administration and his unsupported assertion millions of votes in November's election were illegal.
"The president said that we have an armada going towards the peninsula. That's a fact. It happened. It is happening, rather," Spicer said Wednesday as he tried to clarify the issue.
Speaking to reporters in Saudi Arabia, Mattis said the Pentagon had tried to be open about the Vinson's whereabouts.
"We generally don't give out ship schedules in advance but I did not want to play a game either and say we were not changing the schedule when in fact we have," he said.
"She will be on her way. I will determine when she gets there and where she actually operates, but the Vinson is going to be part of our ensuring that we stand by our allies in the northwest Pacific."
Rear Admiral Jim Kilby, who heads the Vinson strike group, wrote on Facebook late Tuesday that the ships' deployment "has been extended 30 days to provide a persistent presence in the waters off the Korean Peninsula."
North Korea staged a massive military parade on Saturday and observers widely expected the country to conduct a sixth nuclear test to coincide with celebrations marking the birthdate of regime founder Kim Il-Sung.
But that test hasn't happened yet, though North Korean leader Kim Jong-un attempted to launch a missile Sunday that the Pentagon said blew up almost immediately after launch.
© Nine Digital Pty Ltd 2017
TRENDING VIDEO
Two boats almost dragged underwater during NSW rescue
Three fisherman were forced the abandon their tinny in the mouth of the Tweed River after their engine stalled at the worst possible time.
Send your photos, videos and stories to 9NEWS
You can remain anonymous. Click here for more information.