"USA kommer att flytta sin ambassad till Jerusalem – ingen FN-omröstning kommer att ändra på det"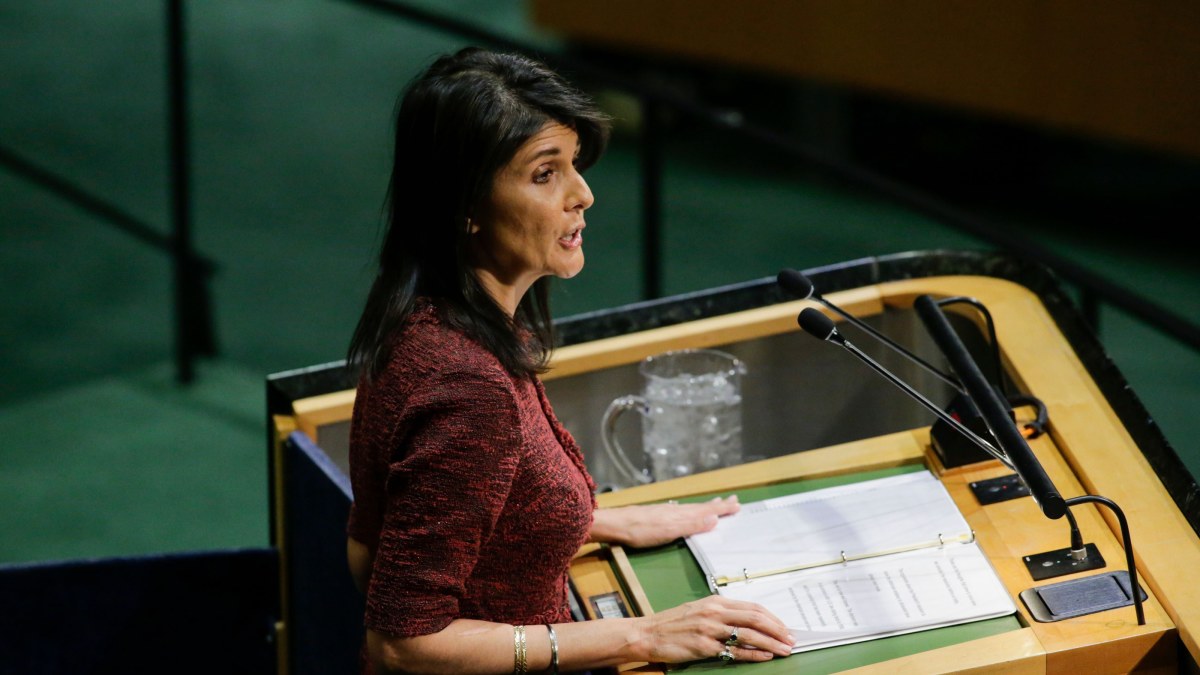 USA hotar FN och dess medlemsländer med indragna bidrag. Det efter att generalförsamlingen med överväldigande majoritet röstade emot USA:s erkännande av Jerusalem som Israels huvudstad.
128 av FN:s medlemsländer, inklusive Finland, röstade för resolutionen som slår fast att uttalanden om Jerusalems status saknar rättslig betydelse.
De enda nio länderna som röstade emot resolutionen var USA, Israel, Guatemala, Honduras, Marshallöarna, Mikronesien, Nauru, Palau och Togo.
USA:s FN-ambassadör Nikki Haley kommenterade resultatet med att USA kommer att flytta sin ambassad till Jerusalem och att ingen FN-omröstning kan ändra på det.
RT @USUN: "America will put our embassy in #Jerusalem…No vote in the United Nations will make any difference on that. But this vote will make a difference on how Americans look at the @UN, and on how we look at countries who disrespect us in the UN." pic.twitter.com/UBLFXVyouY

— Nikki Haley (@nikkihaley) December 21, 2017
– Men det här kommer att ändra på hur amerikaner ser på FN och hur vi ser på länder som visar bristande respekt för oss i FN, sade Haley.
Haley meddelade redan på förhand att USA:s president Donald Trump hade bett henne notera hur länder röstade.
Hon påminde också om att USA är den största bidragsgivaren till FN och sade att "vi kommer att minnas omröstningen".
– Vi kommer att minnas den när vi ännu en gång blir ombedda att ge världens största bidrag till FN. Och vi kommer att komma ihåg den när länder ber oss, som de ofta gör, att betala ännu mera och att använda vårt inflytande till deras fördel.
Bidragstagare som Egypten, Irak och Afghanistan röstade mot USA
Resolutionen är inte bindande och har huvudsakligen symbolisk betydelse, men är ändå ett bakslag för Trump-administrationen.
Viktiga USA-allierade som Storbritannien, Frankrike, Tyskland och Japan röstade alla för resolutionen.
De var måna om att betona att resolutionen egentligen bara bekräftade tidigare resolutioner om Jerusalem, där det slagits fast att Jerusalems status bara kan lösas genom förhandlingar mellan Israel och Palestina.
USA, i sin tur, betonade att så många länder valde att lägga ner sina röster.
För resolutionen
Afghanistan
Albanien
Andorra
Angola
Armenien
Azerbajdzjan
Bahrain
Bangladesh
Belize
Bolivia
Botswana
Brasilien
Brunei Darussalam
Bulgarien
Burkina Faso
Burundi
Österrike
Kap Verde
Kambodja
Tchad
Chile
Kina
Komorerna
Kongo
Costa Rica
Elfenbenskusten
Kuba
Cypern
Demokratiska republiken Kongo
Danmark
Djibouti
Samväldet Dominica
Ecuador
Egypten
Eritrea
Estland
Etiopien
Finland
Frankrike
Gabon
Gambia
Tyskland
Ghana
Grekland
Grenada
Guinea
Guyana
Island
Indien
Indonesien
Iran
Irak
Irland
Italien
Japan
Jordanien
Kazakstan
Kuwait
Kirgizistan
Laos
Libanon
Liberia
Libyen
Lichtenstein
Litauen
Luxemburg
Madagaskar
Malaysia
Maldiverna
Mali
Malta
Mauretanien
Mauritius
Monaco
Montenegro
Marocko
Moçambique
Namibia
Nepal
Nederländerna
Nya Zeeland
Nicaragua
Niger
Nigeria
Norge
Oman
Pakistan
Papua Nya Guinea
Peru
Portugal
Quatar
Korea
Ryssland
Saint Vincent och Grenadinerna
Saudiarabien
Senegal
Serbien
Seychellerna
Singapore
Slovakien
Slovenien
Somalia
Sydafrika
Spanien
Sri Lanka
Sudan
Surinam
Sverige
Schweiz
Syrien
Tadzjikistan
Thailand
Makedonien
Tunisien
Turkiet
Förenade Arabemiraten
Storbritannien
Tanzania
Uruguay
Uzbekistan
Venezuela
Vietnam
Yemen
Zimbabwe
Emot resolutionen
Guatemala
Honduras
Israel
Marshallöarna
Mikronesien
Nauru
Palau
Togo
USA
Avstod
Argentina
Antigua och Barbuda
Australien
Bahamas
Benin
Bhutan
Bosnien-Hercegovina
Kamerun
Kanada
Colombia
Kroatien
Tjeckien
Dominikanska republiken
Ekvatorialguinea
Fiji
Haiti
Ungern
Jamaica
Kiribati
Lettland
Lesotho
Malawi
Mexiko
Panama
Paraguay
Filippinerna
Polen
Rumänien
Rwanda
Salomonöarna
Sydsudan
Trinidad och Tobago
Tuvalu
Uganda
Vanuatu
Det som är intressant att många länder som drar stor nytta av militärt och ekonomiskt bistånd från USA också röstade för resolutionen och trotsade USA.
Till de länderna hör bland andra Egypten, Jordanien, Afghanistan, Irak och Pakistan.
Enligt en del amerikanska analytiker har USA en lång rad strategiska skäl att inte förverkliga sitt hot om att dra in sitt stöd till de här länderna.
Inte heller Israel skulle på några villkor vilja att det amerikanska stödet till exempelvis Egypten eller Jordanien skulle dras in.
Ett centralt motiv för USA att stödja Egypten och Jordanien är att upprätthålla de här ländernas fredsavtal med Israel.
Källor: AP, New York Times, Reuters, AFP