USS Ronald Reagan docks at Port of Brisbane 40 minutes ago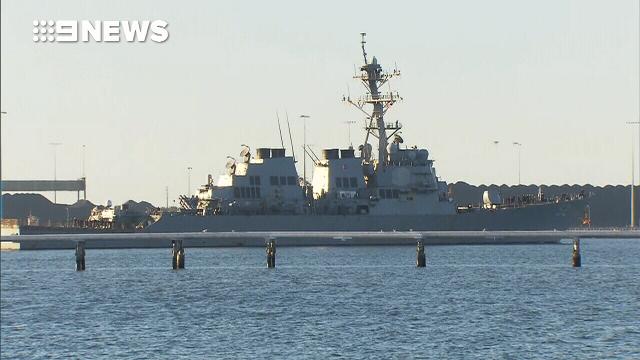 The USS Ronald Reagan has made its spectacular arrival at the Port of Brisbane, with its crew of more than 4500 sailors and air wing personnel flooding the city.
The ship, a Nimitz-class aircraft carrier and the flagship of the United States Seventh Fleet, came into Brisbane later than expected.
After arriving about midday, the process to turn it around using tugboats took around an hour.
The impressive USS Ronald Reagan is in Queensland as part of the joint US Australian military exercise Talisman Saber, involving more than 33,000 personnel.
While on our shores, the crew will visit hospitals, schools and nursing homes.
It's estimated each sailor will spend up to $1000 a day, in a huge boost to the Queensland economy.  The last time they were on dry land was more than a month ago with shore leave in Singapore.
There will be no public tours while the USS Ronald Reagan is here for several days and there is no public access to the Port of Brisbane.
There is a money exchange and bar, complete with XXXX beer, set up at the port ready to welcome the sailors.
The best public viewing area is on the opposite side of the river at Pinkenba.
Boat watchers gathered there from early this morning.
David Sutherland, who arrived at 8am, described the ship as a "floating city".
"With five thousand crew, it's just incredible," Mr Sutherland told 9NEWS.
Scarlett Paton, aged eight, said she and her family were "here to see the big ship because we want to see all the guns and planes". 
© Nine Digital Pty Ltd 2017