Warner Bros. to adapt "Crazy Rich Asians" romantic comedy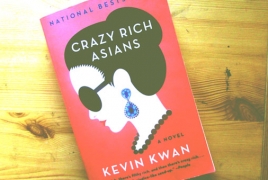 October 22, 2016 – 10:59 AMT
PanARMENIAN.Net – Warner Bros. has acquired "Crazy Rich Asians" and has fast-tracked the romantic-comedy for production. It will be one of the only major studio movies to feature an exclusively Asian cast. Rights for the project attracted a heated bidding war, Variety said.
"Crazy Rich Asians" unfolds in a world of opulence, as new and old money collide among a set of Chinese families living in Singapore. It's being pitched as a combination of "Devil Wears Prada" and "Pride & Prejudice," and follows Rachel Chu, a Chinese-American economics professor and her boyfriend, Nick Young. When Nick invites Rachel to attend his best friend's wedding in his home town of Singapore, he fails to mention that as the heir to a massive fortune, he is viewed as the country's most eligible bachelor.
Color Force's Nina Jacobson her partner Brad Simpson came on board two years ago when Kevin Kwan's book of the same name was still in the manuscript stage.
"It was just a page turner in and of itself," said Jacobson. "It was a delight to be taken into this world that as a Westerner I didn't know. It felt so new and fresh and gave you so much insight."
Color Force, which produced "The Hunger Games" series, brought in Ivanhoe Pictures, the maker of "In the Bedroom," and developed the project and packaged the film with Jon M. Chu directing from a screenplay by Adele Lim (Fox's "Lethal Weapon") and Pete Chiarelli ("The Proposal"). To get the gig, Chu, a first-generation Asian-American, put together a visual presentation that included family photos to show his deeply personal connection to the material.
Jacobson and Simpson knew that finding the right studio home would take a lot of time and effort. Aside from "The Joy Luck Club," which was a hit when it came out in 1993, and "Memoirs of a Geisha," which was not when it bowed 12 years later, there have been very few U.S.-backed films centered around Asian characters and experiences. It also comes at a time when the romantic-comedy genre is struggling. It's been a long time since "Pretty Woman" and "Notting Hill" filled theaters, and with a few exceptions, such as "Trainwreck," most studios have largely stopped making meet-cute films. The "Crazy Rich Asians" producers think that there story and setting is a novel way to revive the genre.
"At a time where we keep asking how we can compete with TV and other offerings, it's important to give people something different," said Simpson. "We're taking them to a world that hasn't been shown much on film."