Wisata Maladewa "Hanya" Rp 13,5 Juta Sudah Termasuk Pesawat dan Hotel, Mau?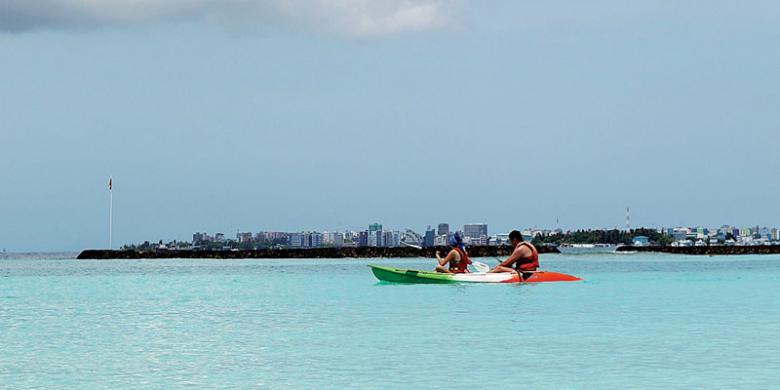 JAKARTA, KOMPAS.com – Maladewa identik dengan wisata mahal. Namun jika cermat, bisa saja pelesiran dengan harga hemat. Seperti paket wisata yang ditawarkan Travelicious.co.id dalam pameran wisata "World of Panorama" yaitu paket wisata all-in Maladewa selama lima hari empat hari "hanya" Rp 13,5 juta.
"Ini paket wisata baru di kami. Itu semua all-in dan nett, jadi sudah termasuk pesawat dan hotel, sampai perahu dan alat snorkeling. Tapi kita gunakan budget airline dan tinggalnya di kota bukan di resor," kata Head of Online Channel Panorama Tours Indonesia Hester Pamela kepada KompasTravel, Kamis (31/3/2016).
Wisatawan akan berangkat dalam grup. Dengan harga Rp 13,5 juta, paket termasuk tiket pesawat PP Jakarta-Maladewa-Jakarta dengan tambahan bagasi 7 kilogram.
Selain itu juga termasuk akomodasi hotel bintang tiga di Male, transportasi selama trip, bandara-hotel transfer dengan bus, transfer dengan feri, speedboat selama island hopping, makan selama trip, alat snorkeling, izin resor, hingga pemandu lokal.
Ia menuturkan itinerary paket wisata tersebut sebagian besar adalah island hopping atau keliling pulau-pulau di Maladewa. Selain island hopping juga terdapat city tour yang fokus pada wisata kuliner dan budaya.
Paket wisata menarik lainnya adalah Seoul-Jeju termasuk Pulau Nami (Korea Selatan). Harganya "hanya" Rp 10,5 juta dan merupakan paket all-in, jadi sudah termasuk hotel, tiket pesawat, makan, tiket ke obyek wisata, transportasi lokal, hingga pemandu wisata.
"Ini juga termasuk visa Korea. Paket ini cocok juga untuk keluarga. Ini laku banget, apalagi pesawatnya itu pakai Garuda," tutur Hester.
Paket wisata menarik lainnya adalah Hongkong-Shenzen-Macau-Zhuhai. Dalam paket ini, wisatawan mendapatkan empat kota dengan lama perjalanan enam hari dengan biaya "hanya" Rp 8,5 juta (all-in dan nett).
"Ini termasuk favorit banget, karena biasanya hanya tiga kota. Ini kita tambahkan dengan Zhuhai. Apalagi berangkatnya dengan Singapore Airlines," kata Hester.
Pameran wisata "World of Panorama" berlangsung di mal Gandaria City Jakarta pada tanggal 31 Maret hingga 3 April 2016. Promo yang diberikan dalam pameran tersebut antara lain diskon hingga Rp 10 juta untuk pembelian paket tur. Ada promo lainnya beli tur langsung gratis tur, diskon 50 persen, gratis visa, cicilan 0 persen hingga 12 bulan, dan lain-lain.