World leaders react with caution to Trump's triumph
World leaders are reacting with caution to Donald Trump's jaw-dropping victory in the US presidential election, with some of them reminding him of the democratic values and the global responsibility he carries.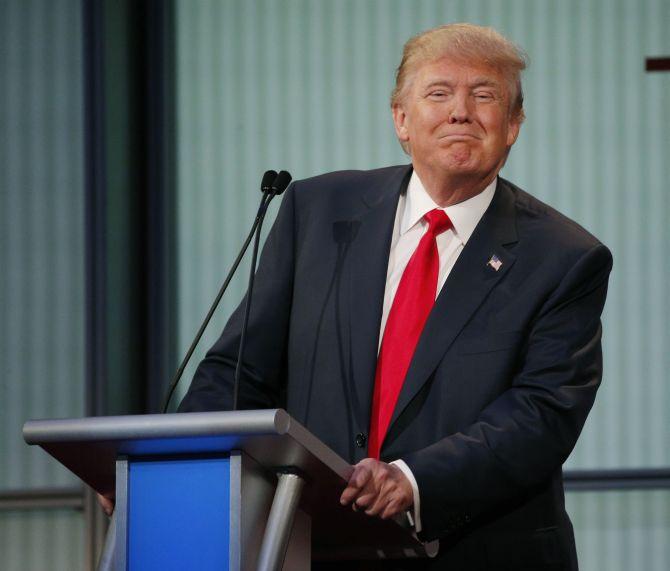 French President Francois Hollande, who had earlier said Trump made him want to retch, expressed his reservations over his victory, saying "opens a period of uncertainty."
"This American election opens a period of uncertainty," he said in a statement that offered only brief congratulations to the controversial billionaire.
German Chancellor Angela Merkel said that any "close cooperation" between the US and her country must be based on shared democratic values, and reminded him of the global responsibility he carries.
"Germany and America share the values of democracy, freedom, respect for the rule of law and human dignity, regardless of origin, skin colour, religion, gender, sexual
orientation or political belief.
"On the basis of these values, I offer close cooperation to the future president of the United States of America, Donald Trump," she said.
US' close ally and British Prime Minister Theresa May lauded Trump's victory, saying the two countries had an "enduring and special relationship" and would remain "close partners" in trade, security and defence.
"I would like to congratulate Donald Trump on being elected the next US president following a hard-fought campaign. Britain and the United States have an enduring and
special relationship based on values of freedom, democracy and enterprise," May said in a statement issued by Downing Street.
Russian President Vladimir Putin, who was accused by Hillary Clinton of closeness to Trump, sent the winner a telegram to congratulate him and said Moscow is "ready to do our part and do everything to return relations to the trajectory of development".
Putin "expressed hope for mutual work on bringing US-Russia relations out of their critical condition as well as on working out outstanding issues on the international agenda" in his congratulatory telegram, the Kremlin said.
China's President Xi Jinping sent congratulations to Trump and said he looked forward to working with him, state broadcaster CCTV reported.
"I highly value China-US relations, and look forward to working together with you, and holding fast to mutual respect and non-conflict, non-confrontation," the channel cited Xi as saying in its nightly national broadcast.
During the campaign, Trump had accused China of snatching the jobs of the Americans. He had earlier claimed that Americans are living through the "greatest jobs theft" in the history of the world, saying US companies were moving out jobs to countries like China, Mexico and Singapore.
Iranian President Hassan Rouhani said there was "no possibility" of its nuclear deal with world powers being overturned by Trump despite his threat to dismantle it.
"Iran's understanding in the nuclear deal was that the accord was not concluded with one country or government but was approved by a resolution of the UN Security Council and there is no possibility that it can be changed by a single government," state television quoted Rouhani as telling his cabinet.
Saudi King Salman, meanwhile, expressed hope that Trump would bring stability to the Middle East.
"We wish your excellency success in your mission to achieve security and stability in the Middle East and worldwide," Salman said.
Pakistan Prime Minister Nawaz Sharif also congratulated Trump on his "historic victory", saying his election is "indeed the triumph of the American people and their enduring faith in the ideals of democracy, freedom, human rights and free enterprise".
Canadian Prime Minister Justin Trudeau pledged to work "very closely" with Trump, saying "Canada has no closer friend, partner, and ally than the United States".
"We look forward to working very closely with President-elect Trump, his administration, and with the United States Congress in the years ahead, including on issues such as trade, investment and international peace and security," Trudeau said in a statement.
Turkey also joined other countries in sending congratulatory message to Trump, expressing hopes for a "new page" in relations.
"I congratulate Trump and I wish him success," Prime Minister Binali Yildirim said in a speech in Ankara. He said that he has urged Trump to extradite as soon as possible the US-based Turkish preacher Fethullah Gulen, who Ankara accuses of masterminding the July coup bid.
Meanwhile, former Swedish Prime Minister Carl Bildt invoked Brexit on Twitter, saying, "looks like this will be the year of the double disaster of the West".
Sri Lankan President Maithripala Sirisena and Prime Minister Ranil Wickremesinghe also greeted Trump on his historic win, taking to the microblogging site to extend their wishes.
"My warm congratulations to US president-elect Donald J Trump on this historic victory," Sirisena tweeted.
"Congratulations to President elect for this historic win. Your path to the White House has indeed been truly remarkable," Wickremesinghe said.
Park Geun-hye, the president of South Korea, said she hopes the United States continues to cooperate with her country after the election of Donald Trump "to address pending issues, including the North Korea issue."
"The Government of the Republic of Korea, upon Mr Trump's election, will continue to closely cooperate with the next US administration for the peace and prosperity in the Korean Peninsula and Northeast Asia region, as well as the world, through further deepening and developing the ROK-US alliance," the statement said.
Czech President Milos Zeman declared on Wednesday he was "very happy" with Donald Trump's election victory, saying he cut through political correctness and addressed key issues like migration.
Zeman, who is head of the NATO and European Union member state but does not steer day-to-day policies, endorsed Trump in September.
"I would like to cordially congratulate Donald Trump. I had, as one of few European politicians, declared public support for this candidate… because I agree with his opinions on migration as well as the fight against Islamic terrorism," Zeman told reporters in a rare press briefing at the Prague Castle.