World's most extreme punishments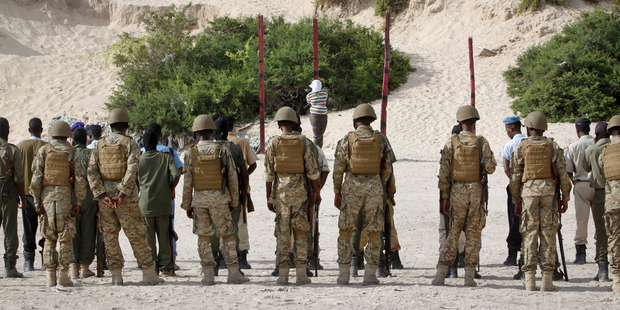 WARNING: Graphic content
THE most severe penalty in New Zealand is life without parole.
It's reserved for the very worst of criminals including murderers and is the mandatory sentence for treason.
But in comparison with the punishments dished out for lesser or similar crimes in other countries, life without parole is arguably the pick of the bunch.
Hanging, beheading, stoning, electrocution and shooting by firing squad are favoured punishments in many parts of the world, according to Amnesty International.
Executions are often undertaken in an extremely public manner, with public hangings in Iran or live broadcasts of lethal injections in the US. According to UN human rights experts, executions in public serve no legitimate purpose and only increase the cruel, inhumane and degrading nature of this punishment.
"All executions violate the right to life. Those carried out publicly are a gross affront to human dignity which cannot be tolerated," Amnesty International's deputy director for the Middle East and North Africa Hassiba Hadj Sahraoui said.
Apart from drug-related offences, people were executed for crimes such as adultery, blasphemy, corruption, kidnapping and "questioning the leader's policies".
The death penalty is legal in 58 countries. The five top executioners in 2015 were China, Iran, Pakistan, Saudi Arabia, and the USA.
Limb amputations, caning, castrations and other forms of torture are also served as punishments for various crimes – including gambling and contact between an unmarried couple – in some countries.
The Indonesian parliament last week passed a new law allowing for tougher punishments for child sex offenders, including provisions for the death penalty, chemical castrations and electronic tracking of released convicts. The amendment was adopted despite rejection by half the legislature as well as ethical objections raised by medical associations.
Indonesian President Joko Widodo introduced the series of tough punishments for child sex offenders in May through an emergency decree, following an outcry over the fatal gang-rape of a 14-year-old schoolgirl.
But the move has been heavily criticised from international humanitarian groups who have deemed the practice of chemical castration "inhumane".
Chemical castration involves administering medication – via injection or tablets – to take away sexual interest and make it impossible for a person to perform sexual acts. The effects are reversible, after the person stops taking the drug.
Widodo said chemical castration will bring down sex crimes, wiping them out completely with time. He also warned if doctors refuse to carry out castration, legal authorities may turn to military doctors for the procedure.
The process of chemical castration has been used in various forms, either forcibly as a sentence or as a way for offenders to reduce their jail time in several countries.
In Australia, Western Australia and Victoria courts already have the discretion to impose chemical castration as a condition of release for high-risk paedophile offenders. In New South Wales, offenders can volunteer for the treatment.
Here are some other forms of severe and controversial punishments that are legal in various countries: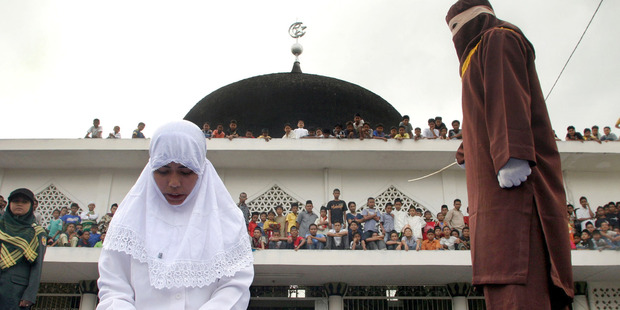 CANING
Countries:Singapore, Brunei, Indonesia, Malaysia and some African countries
Caning can be ordered in some countries for anyone who has committed a range of offences including kidnapping, robbery, drug abuse, vandalism, rioting, sexual abuse, possession of weapons and for foreigners who overstay their visa by more than 90 days.
Medically-supervised caning is used regularly in Singapore and other countries. The wide cane is soaked in water to prevent it from splitting during use. The offender is ordered to strip naked, examined by a doctor and then whacked on the bare bottom at full force. The amount of strokes is dependant on the crime and the caning officer leaves intervals of 10 to 15 seconds between each.
The pain has been described as "beyond excruciating", with the amount of blood "like a bleeding nose". The wound can take up to a month to heal and sometimes can scar the offender.
Last year a young woman was viciously caned in public as a punishment for being in "proximity" to a man who wasn't her spouse.
The 20-year-old Acehnese woman, Nur Elita, was said to commit the offence of "kwalwat" – talking or being in "proximity" to a man other than her husband or relative – under the Islamic sharia law in Banda Aceh, Indonesia on December 28, 2015.
Aceh is the only province of Indonesia enforcing the Islamic sharia law which sees offenders punished by public caning.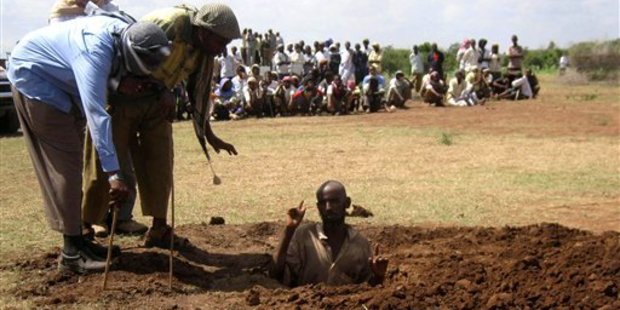 STONING
Countries:Saudi Arabia, Sudan, Pakistan, Iran, Yemen, Somalia, Sudan, United Arab Emirates, Nigeria
Stoning is a form of execution by torture where the individual who throws the deadly stone cannot be identified.
In some countries, those sentenced to stoning, or "lapidation" as it is also called, are buried in a hole and covered with soil (men up to their waists; women to a line above their breasts), according to Article 102 of the Islamic Penal Code.
A selected group then executes the alleged adulterers using rocks and sticks. Those able to escape the hole during stoning can be freed, according to Islamic law, a feat that is much more difficult for women than for men because so much more of their body is covered during lapidation.
Stoning is considered a form of community justice and has its fair share of critics both among human rights groups and Islamic clerics.
In Somalia, a 13-year-old girl was buried up to her neck and stoned to death by 50 men in a stadium with 1000 spectators. After her death it was revealed she had been raped by three men and she was arrested after trying to report the rape to militants who controlled the city.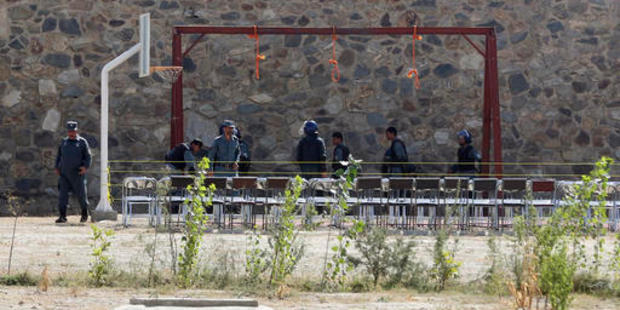 HANGING
Countries: Iran, Pakistan, USA, Egypt, Afghanistan, Bangladesh, Botswana, India, Belize, Brunei, Cameroon, Gambia, Antigua and Barbuda, Iraq, Japan, Jordan, Kenya, Kuwait, Lebanon, Lesotho, Liberia, Malawi, Malaysia, Myanmar, Eritrea, Nigeria, Oman, the Palestinian Authority in Gaza, South Sudan and Sudan, Sierra Leone, South Korea, Sri Lanka, Syria, Tanzania, Tonga, Tunisia, Uganda, Democratic Republic of Congo, Papua New Guinea, Qatar, Zambia, Zimbabwe.
Execution by hanging is the most common method of capital punishment.
Iran – where 369 people were reported executed in 2013 – leads the world in hangings.
On April 26, an Iranian prisoner was publicly hanged after being convicted of rape. Another Iranian, convicted of murder for killing a youth with a knife in a street fight in 2007, was hanged on April 15.
FIRING SQUAD
Countries: Iran, Iraq, Indonesia, Saudi Arabia, India, China, North Korea, Taiwan, Bangladesh, Afghanistan, Lebanon, Nigeria, Oman, Yemen, South Korea, United Arab Emirates, Belarus, Gambia, Somalia, Eritrea, Benin, Qatar, Sierra Leone, Syria, Uganda, USA.
The United Arab Emirates uses firing squads for all executions, but death penalty sentences are rarely carried out. Somalia generally uses firing squads to carry out its death sentences.
It's believed Belarus has carried out less than 10 executions in the past decade. Execution in Belarus is done by shooting the prisoner in the back of the head, but the death penalty's use is shrouded in secrecy.
Australians Andrew Chan and Myuran Sukumaran, part of the 'Bali Nine', were convicted of drug smuggling and trafficking in Indonesia. They were executed by firing squad last year.
BEHEADING
Countries:Saudi Arabia, Benin, Yemen, Qatar
In Saudi Arabia, the usual method of execution is beheading by a swordsman.
It was this week revealed that a Saudi prince was executed in Riyadh after a court found him guilty of shooting dead a fellow Saudi in a rare example of a ruling family member subjected to the death penalty.
Prince Turki bin Saud al-Kabir had pleaded guilty to shooting Adel al-Mohaimeed after a brawl, the ministry of interior said in a statement on state news agency SPA.
It did not say how the prince was killed on Tuesday.
Most people executed in the kingdom are beheaded with a sword. Members of Saudi Arabia's ruling family are only rarely known to have been executed. One of the most prominent cases was Faisal bin Musaid al Saud, who assassinated his uncle, King Faisal, in 1975.
The family is estimated to number several thousand.
While members receive monthly stipends, and the most senior princes command great wealth and political power, only a few in the family hold nationally important government posts.
"The government is keen to keep order, stabilise security and bring about justice through implementing the rules prescribed by Allah," a ministry statement read.
In 2013, a firing squad was used in the execution of seven men convicted of looting and armed robbery. Press reports at the time suggested it was because a swordsman was not available.
ELECTROCUTION
Countries: USA
The USA is understood to be the only country that still uses electrocution as a method to carry out the death penalty.
FALLING FROM A HEIGHT
Countries: Iran
Judges sometimes sentence an individual to be thrown from a cliff or other height.