Xi: Strengthening trust is key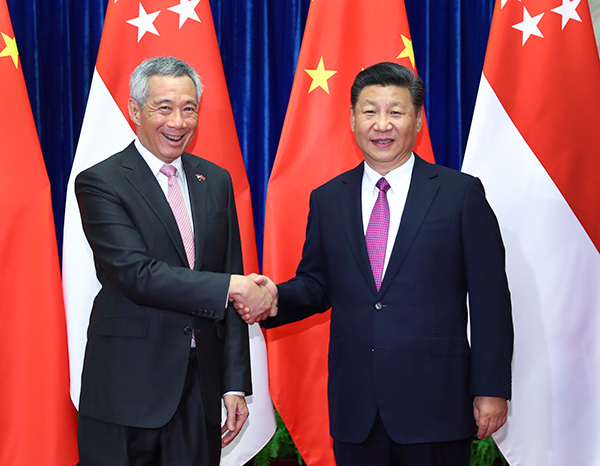 President Xi Jinping meets Singaporean Prime Minister Lee Hsien Loong at the Great Hall of the People in Beijing on Wednesday. [Photo/Xinhua]
Singapore ties bolster region, president says
Strengthening political trust between Beijing and Singapore and moving the relations forward are good for both sides, President Xi Jinping said on Wednesday.
He made the remark at a meeting with Singaporean Prime Minister Lee Hsien Loong, who is on his first official China visit since 2013.
Keeping high-level contact is a good tradition to continue from the leadership of past generations and is the embodiment of close bilateral ties, Xi said.
"Beefing up mutual political trust and continuing to consolidate and develop bilateral ties are in line with the interests of both countries and their people and will also benefit regional and global peace, stability and prosperity," the president said.
He said the two sides should adhere to mutual understanding and respect and support each other on issues of core interests and major concerns.
The two nations share a variety of interests, Xi noted. He proposed that both sides better align development strategies and enrich comprehensive cooperation. They should also beef up civilian exchanges and do more to bond the two peoples.
Construction of the Belt and Road Initiative is the focus of current bilateral cooperation, the president said, adding that he expects the China-Singapore (Chongqing) Demonstration Initiative on Strategic Connectivity to be a success.
In January 2016, China and Singapore launched the joint project to link western China and Southeast Asia through Chongqing.
"We hope it can work as a model in the development of western China," Lee said before the visit.
Lee said he agreed with Xi's comments on Singapore's relations with China.
He said Singapore adheres to the one-China policy, objects to Taiwan "independence" and expects to see a stable and prosperous China play a bigger role in international affairs.
Given the rapidly changing international and regional situation, Singapore wants closer cooperation with China in fields including infrastructure, connectivity and human resources, he said.
Lee said Singapore supports the Belt and Road Initiative and the establishment of the Asia Infrastructure Investment Bank and wants to contribute to common development.
His country will also help deepen cooperation between China and the Association of Southeast Asian Nations, he added. Singapore will become the rotating president of ASEAN next year.
Lee started a three-day official visit to China on Tuesday and will travel to Xiamen, Fujian province, after his stop in Beijing.
Han Fangming, deputy director of the Foreign Affairs Committee of the Chinese People's Political Consultative Conference's National Committee, said Lee's visit will clearly demonstrate how Singapore's China policy, which has a significant effect on cooperation between the two nations, has played an important role in China's reform and opening-up in recent decades.