Young lieutenant at the helm of Royal New Zealand Navy's 75th
She's only 23, but navy lieutenant Sarah Going, is one of those charged with ensuring the multi-million dollar Royal New Zealand Navy frigate HMNZS Te Mana gets safely in and out of the busy waters of Auckland Harbour this weekend.
Despite her relative youth, the petite navigating officer was no newbie to life in the navy, having spent four years in its service.
"My job is to execute the navigation plan, I'm responsible for making sure the ship gets safely from point A to point B," she said. "I usually do the pilotage in and out of the harbour."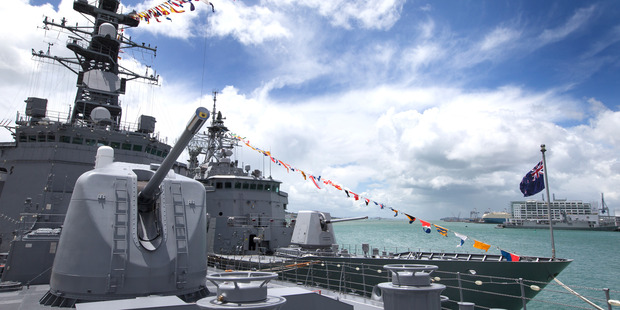 The Te Mana has docked alongside a Japanese destroyer near Wynyard Quarter as part of the navy's 75th anniversary celebrations this week.
Others berthed around Auckland harbour include frigates from China, South Korea, India, Singapore, Indonesia and Chile – all prepped and ready to take part in the International Naval Review.
The ship contingent is in the city, for the biggest event of this year's anniversary celebrations; including a naval line-up at sea and royal flyover on Saturday and a commemorative service for those who've gone before at the Holy Trinity Cathedral in Parnell.
While a number of ships, including ones from the United States, Canada and Australia, have sailed further south to help the New Zealand Navy's emergency response to this week's 7.8 magnitude quake, an 11-member flotilla has stayed in Auckland.
Recreational boaties out on the Waitemata Harbour this weekend are being reminded to stay at least 100m away from the sides and rear of the navy vessels and at least 500m away from the front when they were moving, and 60m away from the anchored ships.
These boats were also not allowed within 200m of the Devonport Naval Base or within 60m of the downtown wharf until the international fleet had departed.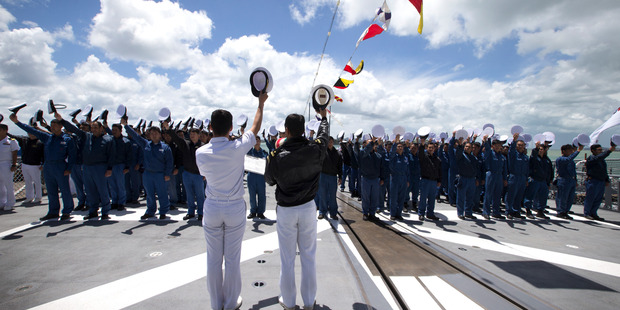 Lieutenant Going said it was great to be in the city and catch a glimpse of other nation's naval vessels as part of the celebrations.
She said this ability to do and see something different everyday was what made life in the navy so enjoyable.
Her work has taken her away from home for up to nine months at a time to places as far afield as the Middle East and Africa – including mission working as part of a multi-national force in the Indian Ocean and Arabian Gulf, helping intercept narcotics that fund international terrorism.
"I enjoy that every day I get to see something different, there's always something different about what you are trying to do and trying to achieve," she said.
For the Herald's visit to the HMNZS Te Mana it was necessary to clamber across the gang-plank and deck of the Japanese destroyer.
The Japanese ship is slightly longer and heavier than its New Zealand counterpart, coming in at 151 metres in length, with a displacement volume of 4,650 tonnes, compared to Te Mana's 118 metres and 3,600 tonnes.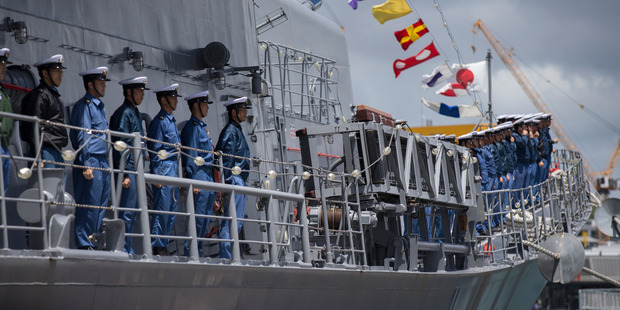 Both are principal fighter ships in their respective nation's navy and on the surface appear quite similar despite their difference in size; with a rather grey austere structure, broken into smaller cabins, wider deck spaces and adorned with a variety of powerful weaponry.
To one not used to life at sea, the living quarters, seemed quite small and confined, however, officers the Herald spoke to didn't find it too much of an issue.
Sub Lieutenant Kya Han Kyeong, 26, said he was currently training to learn to use "basically anything that goes boom".
He'd been in the navy for about two years and said despite living in such close quarters he wouldn't have it any other way.
"I've been at university and seen everyone else get employed in the standard civilian job and nine times out of ten they haven't like it."
This week's naval celebrations
Saturday 12:30 – 2:30pm
Auckland Harbour
International Naval Review
Sunday ship open day 10am – 4pm
Captain Cook, Queens, Princess and Wynyard wharves
Sunday 2pm
Church service to honour those lost
Holy Trinity Cathedral Auckland
Tuesday from 10am
Fleet departure