Yuan gains, shrugging off China rating cut by S&P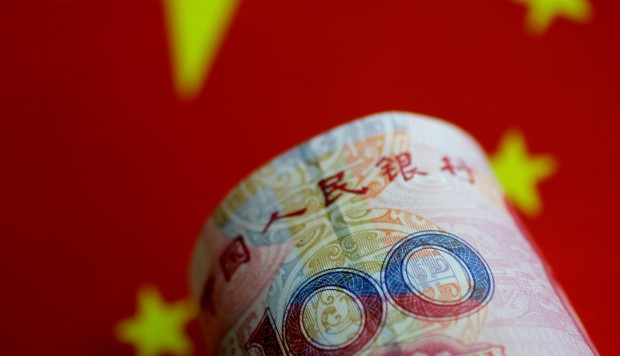 The yuan rose on Friday, shrugging off Standard&Poor's decision to lower China's credit rating, amid confidence in stable financial markets ahead of the 19th Party Congress.
S&P announced on Thursday it had downgraded the country's long-term sovereign credit rating to A+ from AA-. It said the decision was based on credit factors it deemed to be weaker in China than its peers, such as lower average income, less transparency, and a more restricted flow of information.
Corporate credit had come down to 166 per cent of GDP by August 2017 from 170 per cent in February but credit leverage is expected to remain above 100 per cent of GDP, according to ING Greater China economist Iris Pang.
S&P's rating cut may make foreigners more hesitant to invest in the Chinese sovereign bond market, despite the recent launch of the mainland's bond connect scheme, designed to attract overseas investors to buy yuan-denominated bonds via Hong Kong.
China's debt problem should be well recognised by the market
Ken Cheung, foreign-exchange strategist, Mizuho Bank
Nevertheless, onshore yuan rebounded on Friday from yesterday's three-week low as S&P's action was broadly perceived as retrospective and merely a catch-up downgrade to bring it in line with the other two major rating agencies, analysts said.
"China's debt problem should be well recognised by the market," said Ken Cheung, senior Asian foreign-exchange strategist at Mizuho Bank."Some RMB bears should have learned their lesson after the Moody's downgrade on China in May. Hence, the market impact was largely muted."
Market participants are also refraining from selling yuan, believing that China will ensure stability in its stock, bond and currency markets at least before the 19th National People's Congress of the Communist Party of China, scheduled to start on October 18.
"Chinese regulators have so much control over the market place and the overall economy, with so many tools and levers to work with that a lot of investors' decisions will actually be more contingent on the Chinese regulators rather than external factors," said Yoon Ng, director of Spence Johnson, a financial data provider based in Singapore.
Earlier in the day, the People's Bank of China raised the yuan's daily reference rate slightly by 6 pips to 6.5861 from 6.5867 yesterday after the dollar weakened as bets stoked by the Federal Reserve's signal that it may raise interest rates in December abated. Onshore yuan gained 0.6 per cent to 6.5861 per dollar on Friday, set to pare its weekly decline to 0.6 per cent.
Hong Kong's dollar was also little changed on Friday after S&P followed its downgrading of China by cutting the city's credit rating by one notch from AAA to AA+. The currency weakened slightly to near 7.81 after the downgrade.
The downgrade had little impact on the Hong Kong dollar because S&P's AA+ rating is still the highest among the three major global credit rating agencies. Moody's has rated Hong Kong AA2, while Fitch has given it a AA+ score.
Hong Kong's downgrade is unlikely to hurt demand for HK Exchange Fund Bills (EFBs) substantially
because Hibor rates are currently facing upside pressure due to HKMA's more aggressive action to drain liquidity and more hawkish Fed, according to Cheung.