By:
Trends Desk
| New Delhi |

Published: January 6, 2018 9:41 pm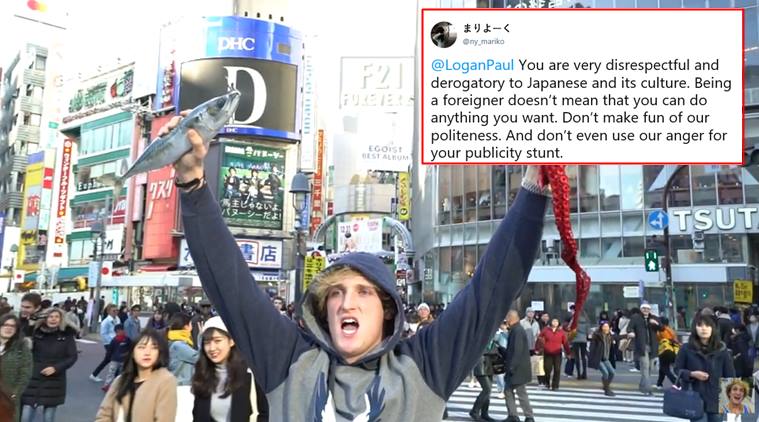 YouTuber Logan Paul's recent vlogs from Japan has irked Netizens around the world. (Source: YouTube)
Popular American vlogger Longan Paul is currently on a tour in Japan to pull off his usual gimmicks and pranks. However, it has not only left the people in the Asian country annoyed but others from around the world too. After facing a severe backlash for posting a video showing an apparent suicide victim in Japan's 'suicide forest', his recent video about pulling casual pranks seemed quite disrespectful.
In the clip posted on his YouTube channel, which has been titled "We Fought In The Middle Of Tokyo!", Paul goes around Toyko poking camera in people's faces, throwing Pokemon balls among other things. And to top it all, Paul takes a trip to a popular fish market in the city and creates a ruckus while holding a dead fish and octopus tentacle in middle of the street. As if that was not enough, he also visited an apparel shop with the dead animals!
He finally left Tokyo's Tsukiji fish market, but stunned everyone around by leaving the raw octopus on a taxi and harassing pedestrians on his way. The video is going viral on YouTube and many Netizens lashed out at Paul slamming him for being "insensitive", admonishing the Japanese culture and making fun of the country's rich heritage – that too, to have fun at the expense of a country that he was visiting.
Watch the video here.
According to Kotaku, many Japanese users commented on his YouTube video that is now going viral with over 6 million views and asked Paul to "leave the country" and "never to come back". Another YouTuber, Dogen who teaches Japanese lashed out at Paul for his disdain vlogs and was appreciated by his followers for doing so.
A message to Logan Paul#Japanpic.twitter.com/OQJHDVeVL9

— Dogen (@Dogen) January 5, 2018
Many others joined Dogen and slammed Paul for his vlogs. Sample these reactions.
I'm actually irate, I'm disgusted, I'm so many words I cannot even form into a proper sentence together. What an absolute piece of garbage, going to a country just to mock their culture and customs. He doesn't deserve to travel and experience things so many others wish to. http://t.co/O0N8Wa3H3P

— Caroline ♡ (@Aurress) January 5, 2018
I don't watch his vids.. But this is what he released in Japan BEFORE the other vid. These are STILL up. None of this is funny. He has a history of targeting Asians. How can anyone defend this guy, honestly? "He said sorry! He made a mistake!" http://t.co/S6eiioVOdk

— philipwang (@philipwang) January 5, 2018
It teaches them that other cultures, Asns specifically, are a joke. That it's OK to go to another country and be rude/obnoxious. It's OK because you can and will get away with it- you may even get millions of views. THAT is privilege. THAT is ignorance.

— philipwang (@philipwang) January 5, 2018
Please tell me how some of Logan Paul's behaviour ISN'T racist?

Throwing pokéballs at Japanese strangers? And for climbing on the back of that poor old man's bike 🙁

What a bully.http://t.co/mDVDNVEwRM

— Sammy 🎄🎁❄️ (@SammyAlbon) January 6, 2018
If the suicide forest issue wasn't bad enough, have a look at the rest of Logan Paul's stay in Japan. pic.twitter.com/Nzw5JgFI3O

— 逝苦湍留雀 (@yuxelcan) January 5, 2018
I couldn't make it through 60 seconds of this, past him loudly telling a Japanese electronics clerk that a device is "mucho broken-o." The idea of this maroon becoming an online role model is scarier than anything in this season of BLACK MIRROR. http://t.co/DzPzE5DgGO

— Tasha Robinson (@TashaRobinson) January 5, 2018
http://platform.twitter.com/widgets.js
Who does this guy appeal to? Like, I liked some stupid stuff when I was a kid (I still do), but I just don't get who his audience base is. http://t.co/CCFAo695cZ

— Ben Axelrod (@BenAxelrod) January 5, 2018
This video, in which Logan Paul pretends to catch Japanese people like Pokemon, is incredible. He's going to cause an international incident. http://t.co/k4XIta5v9q

— Will Sommer (@willsommer) January 5, 2018
nor was italy w their visit (jump in venice canal, etc.) poor example of cultural respect for their young audience, many of whom haven't even traveled abroad yet. http://t.co/zBGDeCJ4uv

— kelly (@KtotheFtotheM) January 4, 2018
saying logan paul is a 22 year old child is so disrespectful. i have seen children act so much better than logan paul. dont disrespect the children like that.

— justine (@biticonjustine) January 5, 2018
i'm so mad. the only thing worse than the whole logan paul incident is people who still support this garbage. especially the people of youtube themselves i mean why is he still on trending? it just goes to show that it's just all about the numbers these days—the money, the fame

— Suneeda (@sunstrck) January 6, 2018
Logan Paul represents how naive* Americans visit other countries to an extreme level of the spectrum. If u think what he's doing is disrespectful, think about the next time someone takes a picture of them helping out kids in third world countries and posting it on social media.

— tiff (@nguyntiffany) January 5, 2018
He literally throws a Pokeball at random Japanese people to try to capture them http://t.co/NbU6ntFw4z

— Joe Bernstein (@Bernstein) January 5, 2018
Another video that was a sheer violation of the YouTube privacy policy — showed a dead body and made fun of the deceased — was taken down shortly after receiving backlash. Although he apologised for the video, the anger against him for ridiculing another country and culture has not subsided and many believe he has does not regret it and it was all a "stunt".
Dear Internet, pic.twitter.com/42OCDBhiWg

— Logan Paul (@LoganPaul) January 2, 2018
@LoganPaul You're an idiot. You're not raising awareness. You're mocking. I can't believe how self-praising your "apology" is. You don't deserve the success (views) you have. I pray to God you never have to experience anything like that man did.

— Sophie Turner (@SophieT) January 2, 2018
Dear @LoganPaul,

How dare you! You disgust me. I can't believe that so many young people look up to you. So sad. Hopefully this latest video woke them up. You are pure trash. Plain and simple. Suicide is not a joke. Go rot in hell.

Ap

— Aaron Paul (@aaronpaul_8) January 2, 2018
This dude is not even funny why do people watch his stuff again. I hope this controversy kills his channel @LoganPaulhttp://t.co/9LjAgmxr4z

— Vanessa🦄 (@iamlauravanessa) January 6, 2018
Logan Paul is so disrespectful on so many levels. Disgusted that this is how he acts on a regular basis. What a stupid YouTube channel. http://t.co/uej4dQCO2T

— Chelsea Steinhauser (@chels_stein) January 6, 2018
I had honestly never heard of #LoganPaul until his suicide forest stunt (and that's what it was, a stunt).
I was truly disgusted and don't believe his bullshit apology at all.
After watching this video, I don't understand how he has ANY followers… this is pathetic. http://t.co/tuRyUUeJN9

— Jas (@JasForbes) January 6, 2018
@LoganPaul You are very disrespectful and derogatory to Japanese and its culture. Being a foreigner doesn't mean that you can do anything you want. Don't make fun of our politeness. And don't even use our anger for your publicity stunt.

— まりよーく (@ny_mariko) January 6, 2018
If Logan Paul tried his stunt in a country like North Korea or Singapore he'd be dead or in jail by now. He should not be allowed to travel anywhere. He is the benchmark of what NOT to do when visiting another country. Comedy should be funny & I don't see anyone laughing but him.

— L Lorenzo (@lizlizlizz) January 6, 2018
Dear @LoganPaul,
How dare you mock an entire country and culture of people for the sake of "entertainment." I'm not just talking about your horrid dead body stunt. Your entire vlog series in Japan is racist and utterly disrespectful. There is no excuse for this. Shame on you.

— Amber Smith (@therealAS13) January 5, 2018
For all the latest Trending News, download Indian Express App