From environment to water supply: Innovation at the centre of city planning in Malaysia
Written by
Vivek Sinha
|

Published: January 20, 2018 3:22 am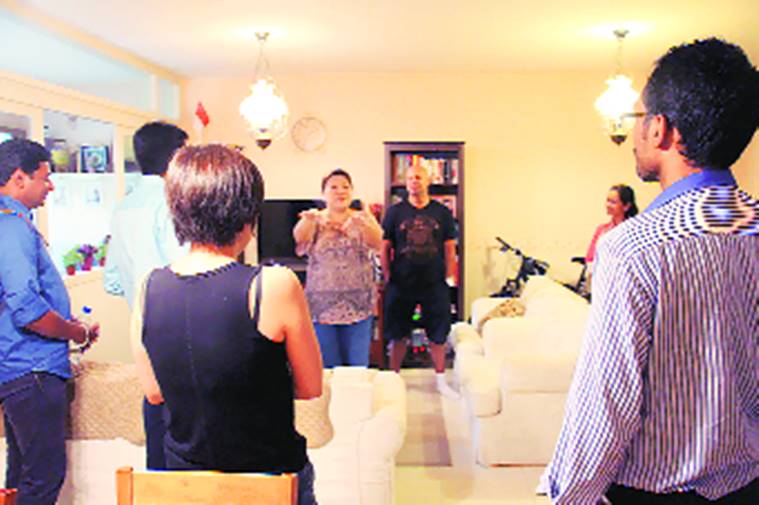 An architectural model of Singapore at the City Gallery.
Just two years after it gained independence from the UK in 1963 by federating with other former British territories to form Malay (now Malaysia), Singapore 'separated' to become a sovereign nation in 1965. "We were actually kicked out," says Georgi, our guide, as she walks us along the Singapore Riverfront. Singapore, one-sixth the size of Mumbai, is perhaps the only country in the world which was served 'independence' hot without asking, leaving it out in the cold with practically no natural resources to rely on. Georgi says that Lee Kuan Yew, their own Gandhi, was dumbfounded and in tears when he broke the news of 'independence' on radio to his compatriots.
But that was then. Today, Singapore, a tiny city-state on the southern tip of Malay peninsula, is the only country in the world whose citizens enjoy a visa-free access to over 173 countries in the world. The country's transition from a forsaken outpost of the British empire to an economic powerhouse within a few decades is remarkable. But what stands out is its meticulous urban planning despite severe space constraint, making it one of the most livable cities in Asia.
A visit to the City Gallery, which also houses the office of the Urban Redevelopment Authority, the nerve-centre of Singapore's urban planning, offers a glimpse into the minds at work. "A visitor coming to Singapore after a gap of 10 years will find a completely different landscape," says Colin Lauw, the City Gallery's senior manager, as he briefs visitors around a huge architectural model of the city which offers a bird's eye view. "There is a long-term sustainable planning, but we keep tweaking it as per needs," says Colin.
Be it housing, urban transport, water supply or environment protection, Singapore has shown it's nimble-footed enough to adapt and find novel solutions.
A home of your own
Take housing. About 80 per cent of the country's population of 5.6 million live in flats built by the Housing Development Board (HDB) and 90 per cent of the homes are owner-occupied. In each HDB complex, Singaporeans of different ethnicity, Indian, Malay, Chinese or Eurasian, live and share the spaces. In fact, the allotment process is designed to ensure a racial mix that rules out segregation. The country's housing policy also has a human touch. To encourage Singaporeans to keep family ties intact, those who keep their parents with them are entitled to a subsidy or a grant while buying a house. A similar but smaller grant is also available to those whose parents live in a flat in close proximity. In keeping with Singapore's philosophy of being a compact city, the HDB is now planning to build nearly 10,000 housing units near key MRT/Metro stations for greater travel convenience and lower car usage.
Water supply
Despite its location by the sea, Singapore is fighting for self-reliance and still has to depend on Malaysia for water since its small water reservoirs are not yet sufficient to meet its needs. But that said, the country has made rapid advances in water management and sustainability. At the heart of this endeavour is NEWater, a facility that produces high-grade reclaimed water by treating used water that is further purified using advanced membrane technologies and ultra-violet disinfection. No wonder, even tap water in Singapore is safe to drink. "In the menu card in my restaurant, the price against a bottle of water is mentioned as zero," says Kuik Shiao-Yin, director of The Thought Collective and member of Singapore's Parliament. "Why charge for something we get free," she says.
Today, NEwater meets 30 per cent of Singapore's water needs.
Environment
Singapore is ever-greening itself. From being a city of gardens, it now aspires to be a "city in the garden", from streetscape and skyrise greenery to parks within 400 metres of most homes. Accordingly, apart from massive plantation drive along its roads, it has now undertaken "vertical greening" of its tall buildings. A showpiece of Singapore's horticulture and garden artistry is Gardens by the Bay, where exotic plants from across the world, ranging from species in cool, temperate climates to tropical forests and habitats can be seen under one roof.
Another new idea is Park Connectors using drainage space, which has already linked up parks and green spaces in the city. By 2020, the city aims to have 360 km of park connectors.
To control vehicular pollution and traffic, the government discourages use of cars in favour of public transports comprising MRT and bus service. After some public opposition to high taxes on cars, it has now introduced a competitive bidding for new registrations of vehicles, whose number has been capped. Another new measure in "congestion" tax in areas of heavy traffic in certain hours of the day.
Waste management
Gone in 60 seconds is the new Singaporean mantra in waste management. Under this pneumatic waste conveyance system, already installed and tested in select places by the Housing Development Board, waste from households will be sucked through underground pipes at speeds of 50-80 km/hour into a centralised bin centre. The system, being installed in new HDB housing projects, will do away with the need for waste collectors to go block to block.
For all the latest Business News, download Indian Express App