Mostre: i Lego di Sawaya raddoppiano, a Roma e Milano in contemporanea
CULTURA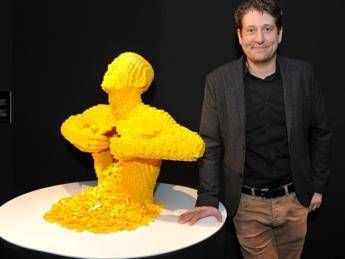 Nathan Sawaya con una delle sue opere, 'Yellow'
Pubblicato il: 15/11/2016 11:38
Raddoppiano le opere in mattoncini Lego dell'artista statunitense Nathan Sawaya, riunite nella mostra itinerante 'The art of the brick': all'allestimento di Milano nella Fabbrica del Vapore, aperto il 18 ottobre scorso e visitabile fino al 29 gennaio 2017, si sovrappone infatti parzialmente un allestimento a Roma, dal 9 dicembre prossimo, al Parco della Musica nell'Auditorium Expo. La doppia proposta 'poggia' sul successo ottenuto lo scorso anno a Roma nello Spazio Eventi Tirso, con circa 120mila visitatori, ed è resa possibile dalla replica di parte delle opere.
In mostra oltre settanta sculture create con più di un milione di mattoncini Lego, già esposte da New York a Los Angeles, da Melbourne a Shanghai, da Londra a Singapore. Le opere esposte, alcune delle quali nuove rispetto all'allestimento dello scorso anno, spaziano dalla figura umana 'semplice' a quella rivisitata nell'arte come la riproduzione della Gioconda di Leonardo Da Vinci, La Ragazza con l'orecchino di perla di Vermeer e L'Urlo di Munch. Non mancano installazioni davvero imponenti come lo scheletro di T-Rex, costruito con oltre 80.000 mattoncini. Nell'allestimento anche raffigurazioni della Cappella Sistina e della Notte Stellata di Van Gogh.
La mostra comprende infine una zona interattiva che invita i giovani, ma non solo, a esprimere la propria creatività utilizzando i Lego, magari imitando l'artista che, da avvocato di successo, ha deciso di dedicarsi alla propria passione "perché mi piace vedere le reazioni della gente alle opere d'arte create da qualcosa con cui hanno familiarità. Voglio elevare questo semplice giocattolo ad un ruolo che non ha mai occupato prima".