NORAD, Google Maps provide live streaming information of where St. Nick is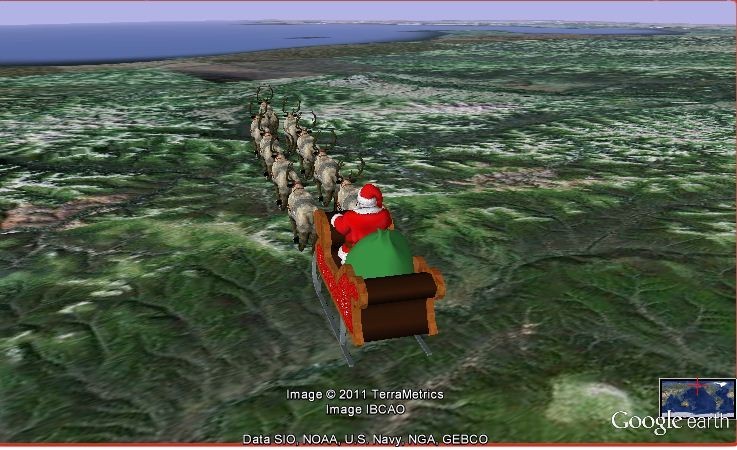 On December 24, Santa Claus started his journey from the North Pole along with Rudolph and eight other reindeer to give gifts to millions of children across the world on Christmas.
The members of NORAD (North American Aerospace Defense Command) are tracking the exact location of Santa through the Santa Tracker. According to the official website of NORAD Santa Tracker, Santa was last seen observing polar bears on the ground.
Santa began his yuletide journey from the North Pole and before leaving he gave a kiss to Mrs Claus. During his joinery, Santa will travel to several destinations around the world, including Funafuti in Tuvalu, Seoul in South Korea, Jakarta in Indonesia, Singapore, Kathmandu in Nepal, Mumbai in India, Dubai in UAE, Johannesburg in South Africa and Vancouver in British Columbia.
Google Maps and the NORAD Santa Tracker will provide the live streaming that will track the whereabouts of Santa. According to Google Maps, Santa has delivered more than 50,000 gifts until now. At around 5.08 am EST (3.39 pm IST), Santa was at Provideniya in Russia.
Where to track Santa Live?
NORAD Santa Tracker started early Saturday and to track the location of Santa, children can now follow the official website of noradsanta.org. Also, follow the official Facebook, Twitter and Instagram pages of NORAD to get live updates about the man travelling in a red suit with his reindeer.
Google Maps will also provide the information on St. Nick live. Follow santatracker.google.com for the live updates. Google's Santa Tracker will also give information on the gifts delivered by Santa during his journey. Similar to NORAD, follow the official Facebook and Twitter pages of Google Maps for more information on Santa Claus.
NORAD Santa Tracker has been giving information about St. Nick for the past 61 years. Every year, more than 1,000 of volunteers gather to track Santa's journey.