Pressure shifts to next host Philippines, as 29th SEA Games officially closes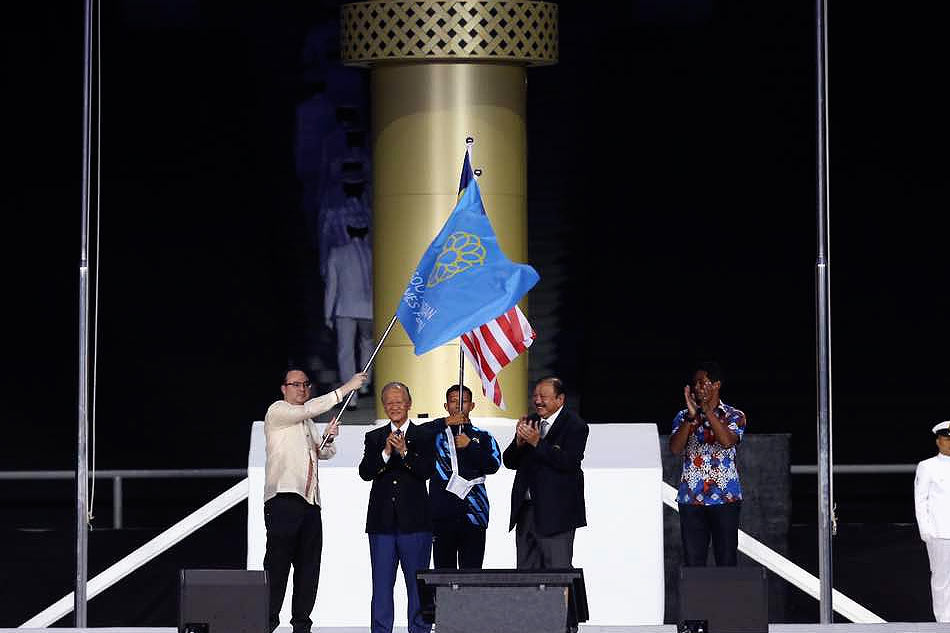 KUALA LUMPUR — The 29th Southeast Asian Games came to a blazing close on Wednesday night, with host country Malaysia putting on a spectacular show at jampacked Bukit Jalil National Stadium.
Malaysia celebrated not just a successful staging of the SEA Games, but also its historic haul as Malaysian athletes won a staggering 145 gold medals out of the 404 mints that were at stake.
Malaysian athletes were feted at Bukit Jalil, which also saw performances from local superstars, a moment of appreciation for more than 14,000 volunteers, and a highlight reel celebrating their victories.
For the small Filipino contingent in attendance, the high point of the night was when the SEA Games flag was officially turned over to Philippine Olympic Committee president Jose Cojuangco, moments after the Games flame was extinguished.
From Kuala Lumpur to Manila, the symbolic hand over of the official SEA Games Federation Flag. 👏🏽👏🏽 #KL2017#CiptaSejarahBersamapic.twitter.com/pkL2zeb45q

— Kuala Lumpur 2017 (@KL2017) August 30, 2017
We wish the Philippines Olympic Committee, the Government and People of the Philippines for a successful 30th Sea Games – Tunku Imran pic.twitter.com/avp3nYKmHL

— Kuala Lumpur 2017 (@KL2017) August 30, 2017
Cojuangco then handed the flag to Foreign Affairs Sec. Alan Peter Cayetano, chairman of the 2019 SEA Games in the Philippines.
Instead of a grand performance by the next host country, as has become tradition, the Philippines instead opted for a simple video touting the various tourist spots in the country as well as the local cuisine.
Instead of a performance, a video highlighting PH tourist spots is shown after the country officially receives the SEAG flag.

— Camille B. Naredo (@camillenaredo) August 30, 2017
The pressure is now on the Philippines not just to stage a similarly successful Games, but also to make up for a historically poor performance in Kuala Lumpur.
The Philippines managed to win only 24 gold medals in the 2017 SEA Games, five fewer than its output in Singapore two years ago, and its fewest since a 20-gold haul in Brunei in 1999.
Meanwhile, Malaysia can now party after its remarkable achievement in the SEA Games, and indeed the celebrations at Bukit Jalil lasted well into the night as the country also celebrated its 60th independence day. 
For more sports coverage, visit the ABS-CBN Sports website.